Dear PGM Capital Blog readers,
In this weekend's blog edition, we want to discuss the leading cause points as to why, both the shares as well as the bond of Freeport-McMoRan Inc. are currently trading at a 5-year high.
INTRODUCTION:
Freeport-McMoRan Inc. (NYSE: FCX), headquartered in Phoenix, Arizona, engages in the mining and exploration of mineral properties – primarily copper, gold, molybdenum, silver, and other metals, as well as oil and gas – in North America, South America, and Indonesia.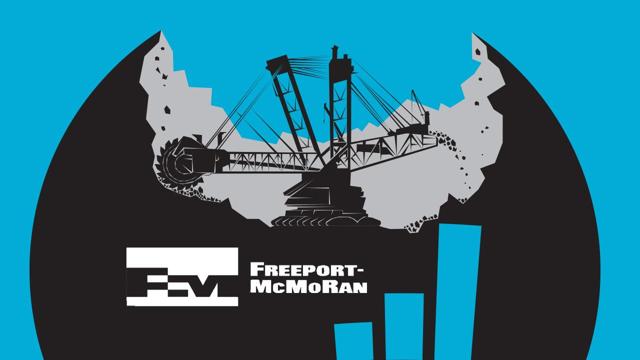 Through the merger of Freeport Minerals, formerly Texas Freeport Sulphur company, – incorporated in 1912 – and McMoRan Oil & Gas Company, the current company Freeport-McMoRan Inc. came into existence in 1981.
Freeport-McMoRan Inc.is not only the world's largest producer of molybdenum, but also one of the largest producers of copper.
Its assets include the following: in Indonesia, the Grasberg minerals district; in Arizona, the copper mines in Morenci, Baghdad, Safford, Sierrita, and Miami; in New Mexico, the porphyry copper mines of Tyrone and Chino; in Colorado, the molybdenum mines in Henderson and Climax; the copper mines of Cerro Verde in Peru and of El Abra in Chile; as well as, being the sole shareholder of Atlantic Copper – a copper refinery – in Huelva Spain.
The company also operates a portfolio of oil and gas properties primarily located in offshore California and the Gulf of Mexico.
As mentioned above, its shares are trading on the NYSE under the symbol FCX and Freeport-McMoRan Inc. is listed as a component of the S&P-500 Index.
FCX STOCK AND BOND AT 5-YEAR HIGH:
The FCX Stock:
As can be seen from the below chart, shares of Freeport-McMoRan Inc. rallied to a fresh five-year high of USD 25.07 a share on Friday, December 4, continuing a torrid advance that has booked a phenomenal 450% return since the stock fell to a four-year low on March 16, of this year.
The FCX 5.45% Coupon 2043 Bond:
As can be seen from the below chart, the company's 5.45% coupon bond with maturity date March 15, 2043, is trading at an alltime high of 124.96%.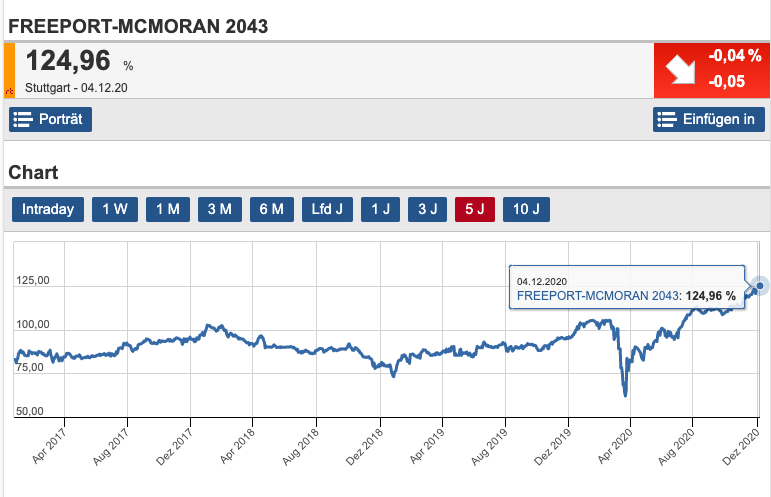 PGM CAPITAL ANALYSIS & COMMENTS:
The Company has been plagued by high debt levels since buying into the oil and gas sector at the worst possible time early in the last decade.
Cost containment and the crash in bond yields since the start of 2019 have allowed the company to retire great percentage of old debt, dropping its outstanding balance to the lowest level since December 2012.
As a consequence from the above, the company's debt-to-equity ratio has plummeted as well, and stands now at the lowest low since March 2013.
On top of this, futures of Copper and Gold are doing very well this year.
As can be seen from the below chart, copper futures took off for the heavens in March, lifting approximately 68% into this week's six-year high.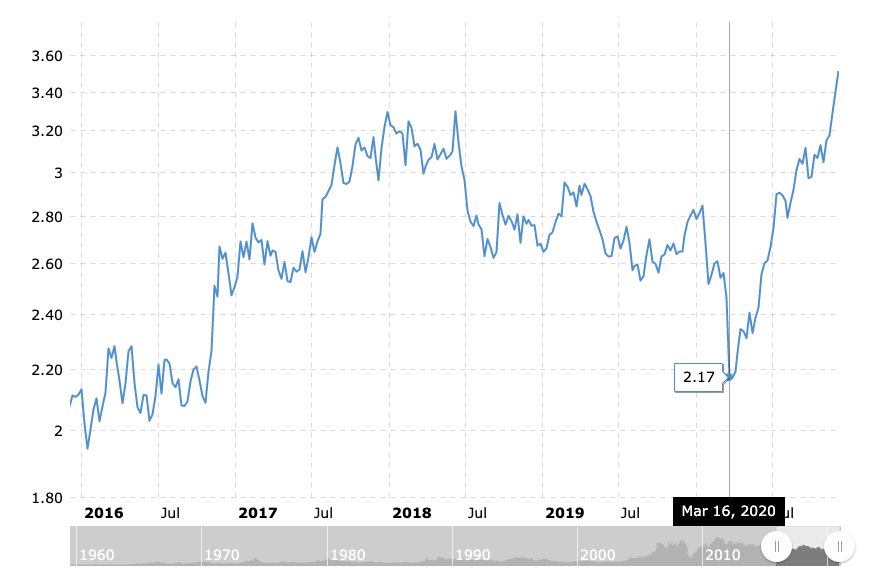 Gold futures mounted the US$2,000 level during the summer months and could gain additional ground after working off long-term overbought readings.
Based on the above, Wall Street consensus on the stock has improved in recent quarters, and is now standing at a "Moderate Buy".
Falling interest rates combined with expansion of the balance sheets of the FED and other Central Banks, will dilute the purchasing power of world's major currencies, putting upwards pressure on commodity prices.
Based on the above, we maintain our BUY rating on the share of the company.
However, regarding the FCX 5.45 coupon 2043, we are taking profit by gradually selling them.
Disclosure:
We own shares of FCX, but do not own any bond in our personal portfolio.
In the rapidly changing world and subsequent turbulence, PGM Capital is at your service as your Professional, Trustworthy and Dedicated, Financial Advisor and Asset Management.

Last but not least, before taking any investment decision, always take your investment horizon and risk tolerance into consideration. Keep in mind that share prices do not move in a straight line. Past Performance Is Not Indicative Of Future Results.
Yours sincerely,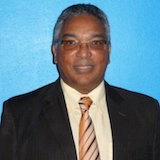 Eric Panneflek