Dear PGM Capital Blog reader,
In this weekend's blog article, we want to discuss with you, Royal Dutch Shell, the greatest Oil supermajor in the market, returning 125 Billion US-Dollar to share holder, yearly as dividend.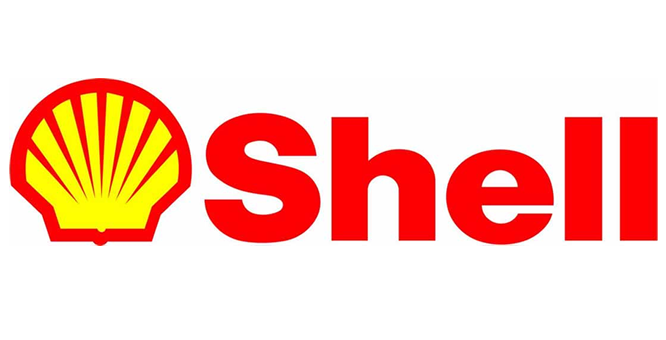 INTRODUCTION:
Royal Dutch Shell PLC (RDSA.AS or RDSA.L), commonly known as Shell, is a blue-chip British-Dutch oil and gas company headquartered in the Netherlands and incorporated in the United Kingdom.
It is one of the oil and gas "supermajors" and the third-largest company in the world measured by 2018 revenues (and the largest based in Europe).
In the 2019 Forbes Global 2000, Shell was ranked as the ninth-largest company in the world (and the largest outside China and the United States), and the largest energy company.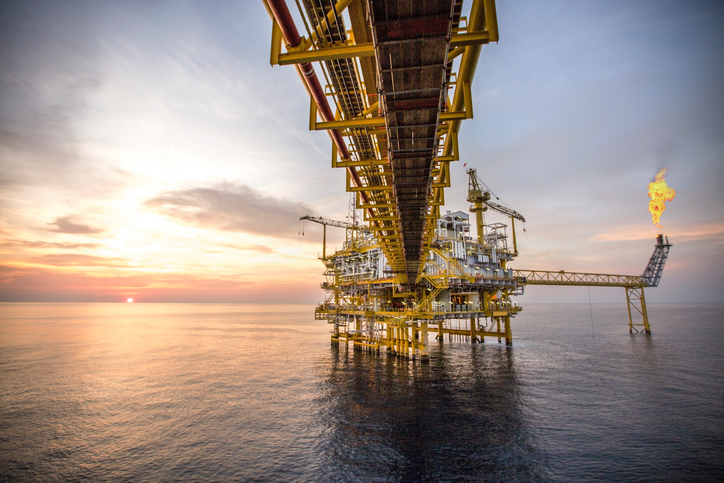 The company prides itself on paying a consistent dividend.
Based on its closing price of Friday, December 6, 2019, it rewards its shareholders with a 6.5% dividend, one of the biggest of all the major oil companies.
FREE CASH FLOW:
In 2018, the company's free cash flow came in at US$27.3 billion, more than double the total in 2017. The year prior, free cash flow had been negative, due to very low oil prices in 2016.
In the first half of this year, free cash flow was US$10.9 billion, placing it behind the pace of last year.
Royal Dutch Shell is forecast to bring in US$20.5 billion in free cash flow in 2019 as can be seen from below chart.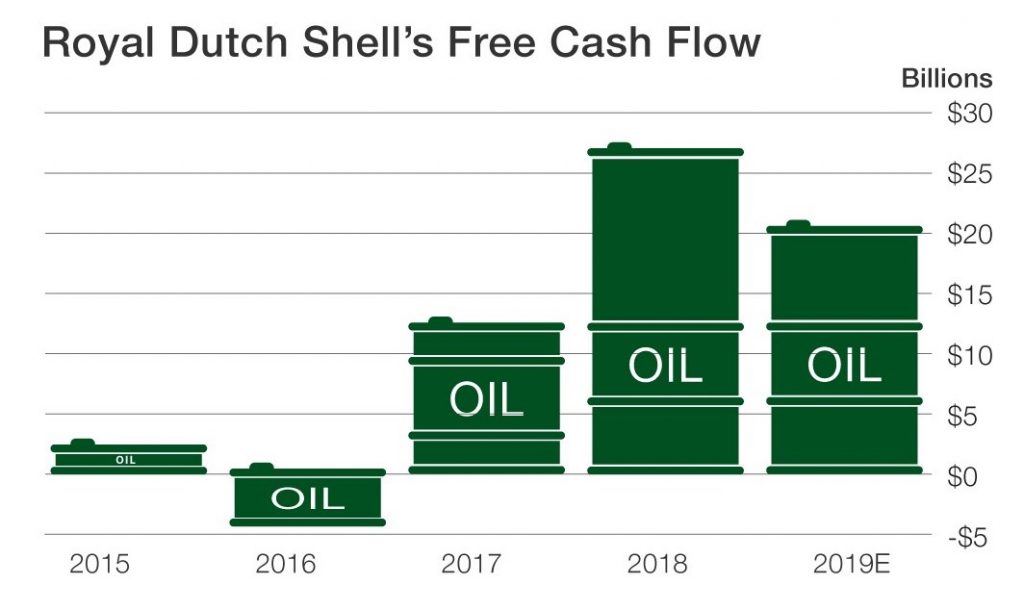 PGM CAPITAL's ANALYSIS & COMMENTS:
Over the past year, many of the big oil companies saw their share prices punished as oil prices declined and net incomes took a significant hit.
While other oil companies were forced to cut their dividends during the oil downturn, Shell has held steady to its commitment to its shareholders. Another plus is the company has a reputation for good management and has been able to keep its debt levels low, as can be seen from below visualization of the company's balances sheet.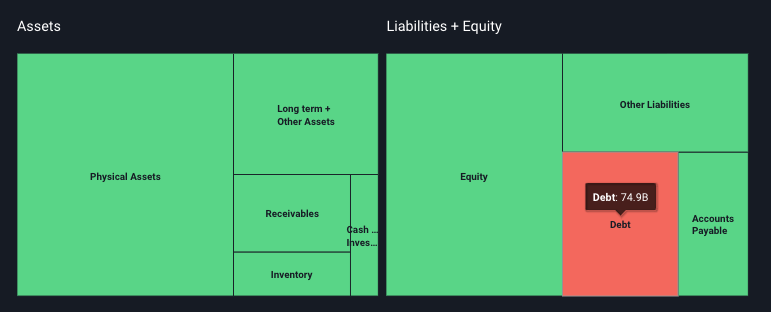 Shell leads big oil in clean energy shift:
Royal Dutch Shell, is one of the most aggressive global oil and gas producers on clean-energy and climate change.
Shell CEO Ben van Beurden, said on the Januari 31, 2019 earnings call the following:
"I'm quite confident that Paris will be delivered because there is a very significant societal push behind it and if it has to be delivered, it has to be delivered through business. And I intend to fully benefit from that."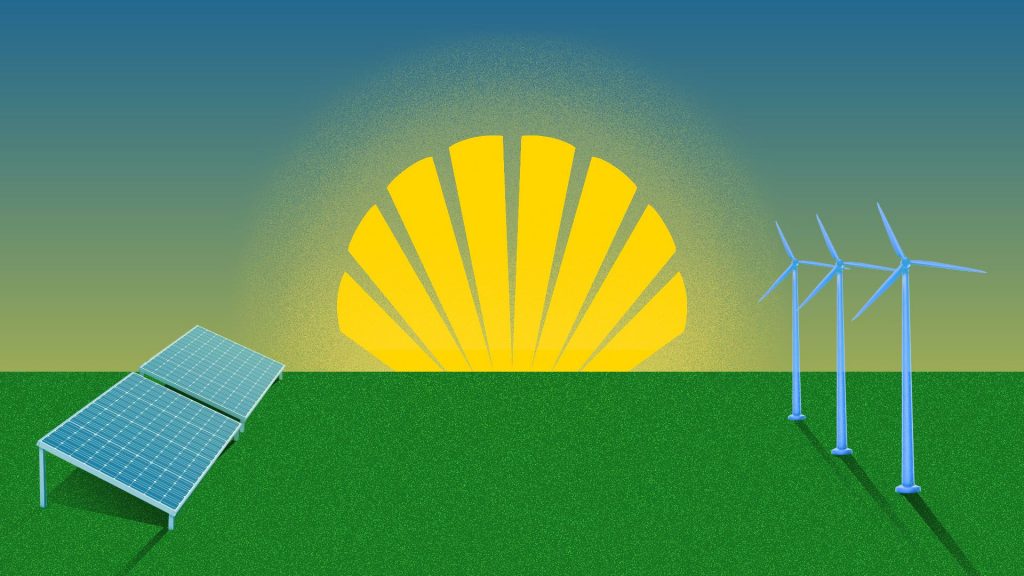 Shell has already significantly shifted its business from oil to natural gas, the cleanest fossil fuel, in the last several years.
Eventually, oil and gas will become a far smaller part of the company, with electricity and petrochemicals gaining in share, Van Beurden said on the latest earnings call.
Credit Rating:
On November first, 2018, S&P raised the long-term issuer credit rating on Anglo-Dutch oil major Royal Dutch Shell PLC to 'AA-' from 'A+, with a stable outlook.
The rating agency also raised the company's short-term issuer credit rating to 'A-1+' from 'A-1' and hiked the ratings on Shell's rated senior unsecured debt instruments to 'AA-' from 'A+."
Stable Dividend:
As can be seen from below chart, the company has never cut its dividend going back to 2005.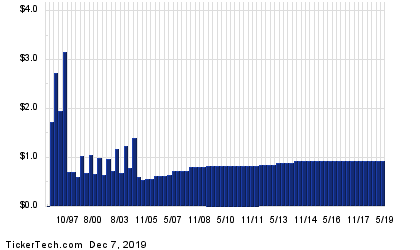 It has paid a dividend 47 cents a share or US$0.94 per ADS (American depositary share), since the start of 2014 every quarter since 2014, thus management has shown a commitment to its dividend.
Shell is the UK's largest dividend payer and among the top three in the world.
Analysts have previously argued that Shell's ability to reward shareholders in times of lower commodity prices and across multiple years will be the true test of world-class status.
Based on the above, we maintain our Buy Rating on the shares of the company, because it could be a good long-term play for dividend investors focused on a top-notch yield from a consistent payer, in the current environment of negative to near zero interest rate globally.
Disclosure:
We own shares of Royal Dutch Shell in our personal portfolio.
PGM Capital is at your service as your, Professional, Trustworthy and Dedicated, Financial Advisor and Asset Management.

Last but not least, before taking any investment decision, always take your investment horizon and risk tolerance into consideration. Keep in mind that share prices do not move in a straight line. Past Performance Is Not Indicative Of Future Results.
Yours sincerely,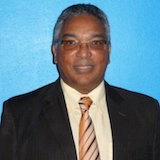 Eric Panneflek