Dear PGM Capital blog readers,
In this blog article we want to elaborate on the best way to invest in the legalized Cannabis Industry.
INTRODUCTION:
Marijuana, known otherwise as cannabis, (or more accurately, cannabis sativa or cannabis indica) is a naturally occurring plant that produces a wide variety of chemicals impacting people in a myriad of ways.
Possession of cannabis was illegal in most countries as a result of the agreement about Indian hemp, also known as hashish, in the International Opium Convention of 1925.
On 10 December 2013, Uruguay became the first country in the world to legalize the sale, cultivation, and distribution of cannabis, since than the legality of cannabis for general, medical or recreational use varies from country to country.
In the meantime, many countries have decriminalized the possession of small quantities of recreational cannabis as can be seen in below chart.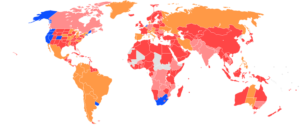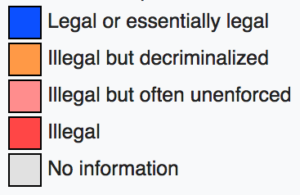 The medicinal use of cannabis is legal in a number of countries, including Canada, the Czech Republic and Israel.
Medical usage of cannabis in the United States is legal in 29 states as of December 2016.
As of 2017, Australia, Bangladesh, Cambodia, Canada, Chile, Colombia, Costa Rica, the Czech Republic, Germany, India, Jamaica, Mexico, the Netherlands, Portugal, South Africa, Spain, Uruguay, and some U.S. jurisdictions have the least restrictive cannabis laws while China, Egypt, France, Indonesia, Japan, Malaysia, Nigeria, Norway, the Philippines, Poland, Saudi Arabia, Singapore, South Korea, Thailand, Turkey, Ukraine, the United Arab Emirates and Vietnam have the strictest cannabis laws
INVESTING IN THE CANNABIS INDUSTRY:
Legalized recreational cannabis is a $6 billion industry that is projected to reach US$50 billion in legal annual sales by 2026. Here's what you need to know if you're thinking of investing in marijuana.

Other hotbeds for ancillary products in the cannabis industry include distribution, marketing, advertising, payment solutions, agriculture technology and business intelligence.
PGM CAPITAL ANALYSIS & COMMENTS:
The legalized marijuana sector is currently driving the fastest growing industry in the United States with over 30 percent compound annual growth, according to preliminary 2016 revenues reported in Colorado by the Marijuana Enforcement Division. In other words, if you're a serious investor you need to start taking cannabis seriously.
When reading this article you may be saying,
"We are aware of fact that the legalized cannabis sector growing, but where should we actually put our money?"
There are some critical factors to consider when answering this question.
First, avoid publicly traded marijuana companies because they're all over-the-counter.
Second, look for companies with solid management teams.
Third, avoid interacting directly with cannabis to side step a lot of risk.
Our advise is, if you want to invest in the legalized Cannabis sector, play it safe and focus on the services and technologies that empower and facilitate the success of these new cannabis companies.
The legalized Marijuana sector is a highly-regulated industry, so it's helpful to look at other highly regulated industries for guidance. Identify solutions from other industries like prescription drugs, alcohol, and insurance, and find companies replicating them for the cannabis industry.
Canada C-45 Bill:
The Canadian government recently introduced a bill legalizing Marijuana across the country. Canadian Prime Minister Justin Trudeau campaigned on the topic of legalizing Marijuana, and has cited the failures of current policies to diminish and/or stop the use of cannabis.
The currently proposed C-45 bill could benefit growth cannabis related corporation  if the government is involved in the distribution system as it likely will be. Therefore, it stands to reason that the licensed suppliers to the government run Healthcare system will get first dibs on the new production and distribution.
While momentum certainly seems to be on the side of legalization, there's likely to be a great deal of debate on the topic.
Medical Marijuana ETF:
Our research team is currently analyzing a Medical Marijuana ETF which seeks to replicate, to the extent possible, the performance of the North American Medical Marijuana Index, net of expenses.
The North American Medical Marijuana Index is designed to provide exposure to the performance of a basket of North American publicly listed life sciences companies with significant business activities in the marijuana industry.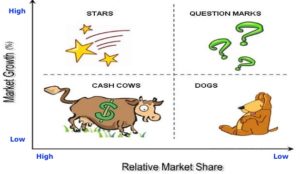 Last but not least, before making any investment decision , always take your investment horizon and risk tolerance into consideration and keep in mind that, growth sectors, – like the legalized cannabis industry –  can be very volatile and that most of the companies in the initial state of growth will not emerge from the "Question marks Kwadrant" to the Stars Kwadrant", accordance with the "Boston Consultancy Growth Matrix" shown here above.