Dear PGM Blog reader,
It is now official, if nothing changes, that January 2022 will become the worst-ever start in the history of the S&P 500, according to data from Ned Davis Research, a stock market research shop.
This is illustrated in the below chart which indicates the data up to the end of trading of Tuesday, January 25th, 2022, — the 16th session of the year.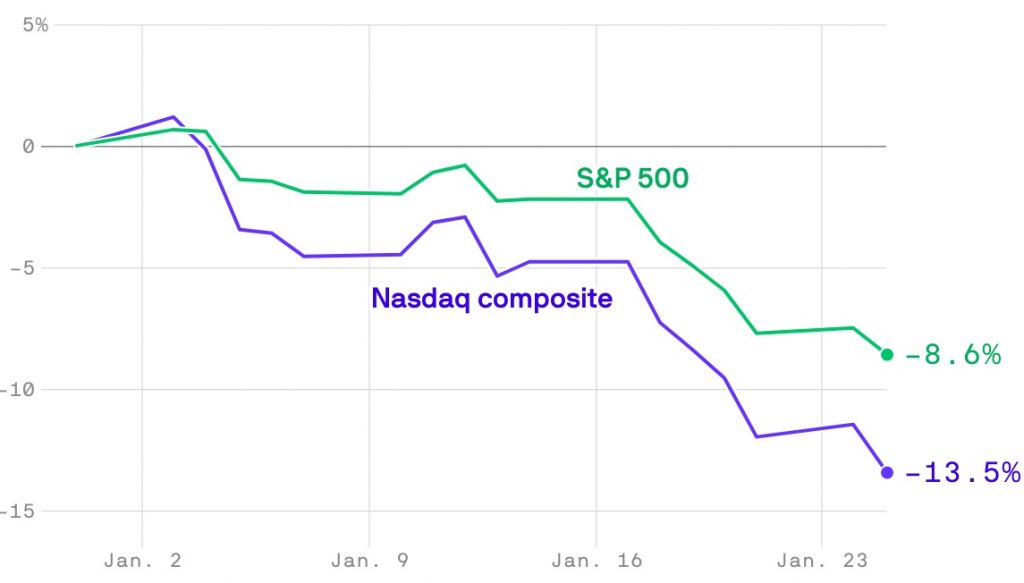 The S&P data goes back to 1929, for which:
The 8.6% decline up to January 25 of this year, edges out the 8.57% drop experienced in January 2009.
INTRODUCTION:
In 2020, the USA FED and other major Central Banks have lowered their key interest rates to near zero or negative in order to support the broader markets as the world economy absorbed a sharp hit from the COVID-19 Pandemic.
These low rates and stimulus, have increased the M1 money supply with 500 percent compared with February 2020, as can be seen from below chart.

Based on the direct relation between Money Supply and Inflation, investors have grown increasingly worried about rising inflation and how aggressive the Federal Reserve might be in raising interest rates to tamp it down.
Inflation fears and concerns about the impact of higher interest rates have triggered investors to sell their securities and to go on the sideline awaiting inflation figures and subsequent interest rates decisions of the Central Banks.
Technology stocks and consumer-focused companies have fallen out of favor. Energy is the only S&P 500 sector showing a gain; food producers, household good makers and utilities, which are typically considered less-risky investments, held up better than the rest of the market.
The tech-heavy Nasdaq, has fallen for four straight weeks and is now down 14.3 percent from the record high set on November 19, 2021 as can be seen from below chart.

Technology and communications stocks were among the biggest drags on the Nasdaq, for which Streaming video service Netflix plunged approx. 55% YTD, as can be seen from below chart.

Crude Oil Prices:
As can be seen from below chart, WTI crude futures jumped around 16.2% YTD to close a USD 87.40 a barrel on Friday January 28, 2022, holding at levels not seen since 2014 and are on track for a sixth straight week of gains, amid tight supply and prospects of strong demand.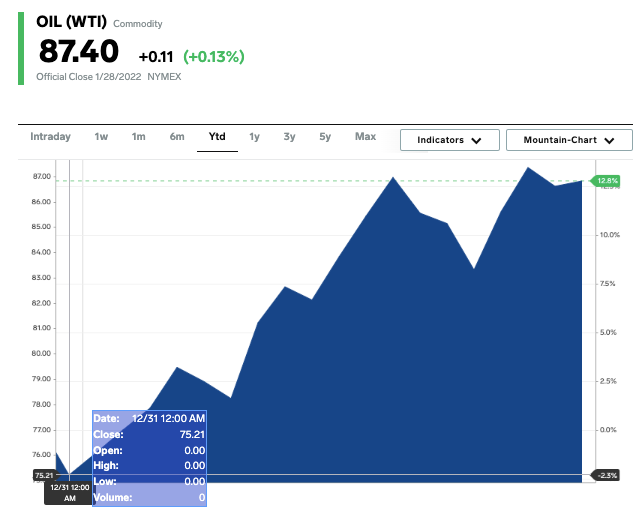 PGM CAPITAL COMMENTS & ANALYSIS:
In the longer term, equity markets tend to rise. In the short term they are unpredictable with sometimes strong fluctuations – upwards (investors often have little problem with that!) and downwards – have to be accepted.
As an explanation for the recent declines in the global stock market, the financial media points to the sharp rise in inflation.
The prevailing view is that central banks will raise interest rates to fight inflation. Higher interest rates are unfavorable to equity markets because future profits discounted at higher interest rates are now worth less. This negative effect of higher interest rates applies in particular to so-called growth companies, (mainly technology companies) where the expected profits often lie further in the future.
Due to the fact that currently wage developments are lagging significantly behind inflation, this will lead to a decline in purchasing power of the middle class, which may very well lead to falling demand in some sectors and at the end, tame inflation.
Based on this, the recent declines are therefore by no means a reason for us to panic or to make any adjustments to the portfolio. This should be seen as an excellent opportunity to add high quality big cap (disruptive )technology stocks to our portfolio.
Like Warren Buffett said: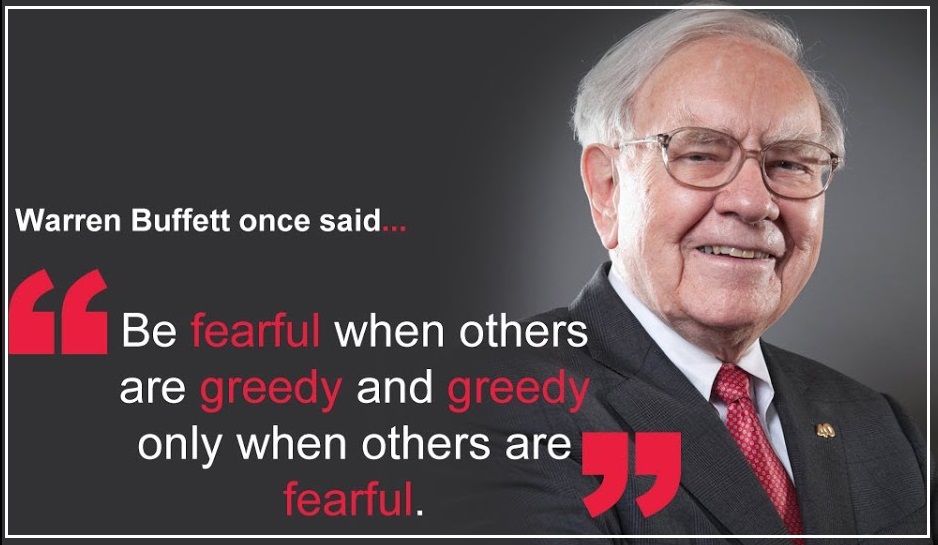 With Cash is Trash at the end of the day, the best place for your money is by investing it in high quality securities, for which under the current situation our preference goes to:
Energy, commodities, Food, Consumers and Disruptive technologies.
In this rapidly changing world and subsequent turbulence and chances of rise in inflation, PGM Capital is at your service as your Professional, Trustworthy and Dedicated, Financial Advisor and Asset Management.

Last but not least, before taking any investment decision, always take your investment horizon and risk tolerance into consideration. Keep in mind that share prices do not move in a straight line.
Past Performance Is Not an Indication for Future Results.
Yours sincerely,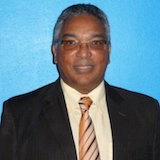 Eric Panneflek