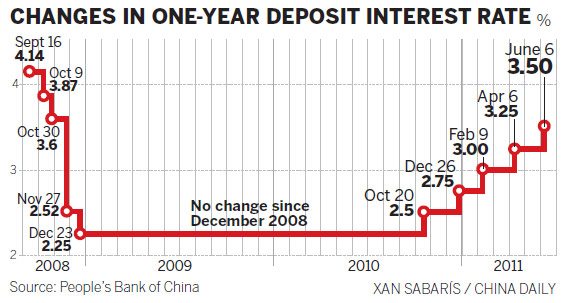 Dear PGM CAPITAL blog reader, on Wednesday, July 6th 2011, the Central of China, announced that it will increase interest rates, for the third time this year, by 25 basis points. The new rates take effect on Thursday July 7th 2011.
The rate paid on one-year deposits will rise to 3.5 percent and the rate for one-year loans will rise by the same margin, to 6.56 percent, it said.
Highlights:
The Chinese consumer price index (CPI), the main gauge of inflation, reached a 34-month high of 5.5 percent in May from 5.3 percent in April and the June figure could break the 6 percent mark
The Agricultural Bank of China forecast that inflation could hit 6.4 percent in June, driven by soaring food prices and living expenses.
Li Huiyong, chief economist at Shenyin & Wanguo Securities in Shanghai, said the second half of the year will see less monetary tightening as measures already introduced bite in.
The economy will maintain strong growth and the government still has plenty of room to tighten monetary policy, the World Bank said last month.
The economy is predicted to grow by 9.3 percent this year, before slowing to 8.7 percent in 2012 and 8.8 percent in 2013, it forecast in a report.