Dear PGM Capital Blog reader,
In this weekend blog edition, we want to discuss some of the most important events that happened in the global capital markets, the world economy and the world of money, in the week of December 3, 2018, as follows:
DOW Jones Industrial Dropped 1,565 points in the week of December 3, 2018.
Altria buys 45% in Cannabis producer Cronos.
DOW JONES DROPS 1,565 POINTS:
Worries about the US-China trade war unleashed another round of heavy selling on Friday, December 8, capping off a brutal week on Wall Street.
As can be seen from below chart, the Dow fell approx. 559 points, or 2.24%, on Friday as investors were left confused by conflicting messages coming out of the White House on the trade negotiations with China.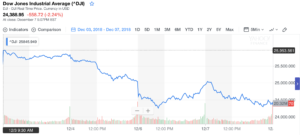 For the week, the Dow plunged 1,565 points, or 6.03%, as can be seen from above chart.
ALTRIA BUYS 45% IN CRONOS GROUP:
On Friday, December 8, Marlboro maker Altria Group Inc. (NYSE: MO), announced that it will invest US$2.4 billion in Canadian cannabis producer Cronos Group Inc. (CRON.TO), – marking a major foray by Big Tobacco into the pot sector –  as the global market for weed continues to grow.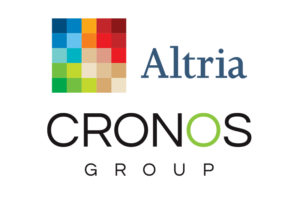 The deal gives Altria an up to 45 percent stake in Cronos and is the latest in a string of investments from consumer companies hoping to benefit from Canada's move to legalize marijuana for recreational use.
Based on the news, shares of CRONOS rose with CAD 3.08 or 22.03 percent to an all time high of CAD 17.06 a share, as can be seen from below 2-year chart.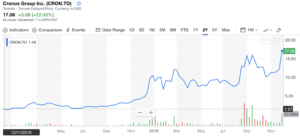 PGM CAPITAL's ANALYSIS & COMMENTS:
DOW JONES Drops:
US stocks had been trading higher earlier Friday, but the market turned sharply lower after Trump administration officials seemed to contradict each other on trade.
Worries about the negative consequences of the trade war and hopes for progress have launched Wall Street on a wild ride of late.
The US-China ceasefire sent stocks soaring on Monday, yet doubts about the truce helped knock the Dow nearly 800 points into the red on Tuesday. Continuing on, the Dow plunged 785 points on Thursday before staging a comeback.
Below Chart shows the performance of China's CSI-300 Index last week, in which we can see that it only lost 1.8 percent in the week of December 3rd, which might be an indication that the market believes, that an escalation of the trade war between the USA and China, might hurt the USA more.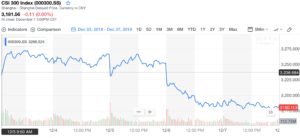 The Altria – Cronos Deal:
With the Cronos deal, Altria will get a new opportunity to boost revenue as cigarette smoking continues to decline in the United States.
Federal data from November showed cigarette smoking among U.S. adults reached an estimated 14 percent in 2017, the lowest level ever.
In an interview, Mike Gorenstein, Cronos Group's Chairman, President and Chief Executive Officer said:
Altria is the ideal partner for Cronos Group, providing the resources and expertise we need to meaningfully accelerate our strategic growth.

As one of the largest holding companies in the adult consumer products sector, Altria has decades of experience in regulatory, government affairs, compliance, product development and brand management that we expect to leverage, particularly as new markets for cannabis open around the world.
As discussed in our blog article of December 2nd, 2018, we believe that cannabis stocks are over sold and under valued, which make them an excellent buy for long term investors. The timing of the purchase of 45 percent of Cronos group shares by Altria might be an indication that we were right on this.
Based on this, we maintain our Strong Buy Rating on – the two biggest Cannabis producers -, Aurora Cannabis and a Buy Rating on Canopy Growth.
Disclosure:
I/We are long holders of Aurora Cannabis and Canopy shares.
Last but not least, before taking any investment decision, always take your investment horizon and risk tolerance into consideration. Keep in mind that share prices do not move in a straight line. A Past Performance Is Not Indicative Of Future Results. Technology stocks and stocks of startups and maturing companies, experience a higher volatility than the ones of developed market big-caps.
Yours sincerely,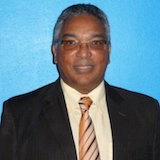 Eric Panneflek