Dear PGM Capital, Blog readers.
In this weekend's blog edition we want to discuss some of the most important events that happened in the global capital markets, the world economy and the world of money in the week of February 6, 2017:
Rio Tinto reported blockbuster earnings and hikes dividend.
Gold price hit three-month high.
RIO TINTO REPORTED BLOCKBUSTER EARNINGS AND HIKES DIVIDEND:
On Thursday, February 9, 2017, Rio Tinto plc RIO.AX reported blockbuster full-year 2016 results.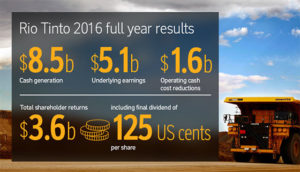 2016 Highlights:
Generated strong operating cash flow of US$8.5 billion.
Achieved US$1.6 billion of pre-tax sustainable operating cash cost improvements

.

Investing in three major growth projects in bauxite, copper and iron ore.
Optimizing the portfolio with disposals of US$1.3 billion announced or completed in 2016 and up to US$2.45 billion announced to date in 2017.
Strengthened the balance sheet further with net debt reduced to US$9.6 billion.
Underlying earnings were US$5.1 billion, up 12% year over year.
Underlying earnings came in at US$2.83 per American Depositary Receipt (ADR) compared with US$2.48 in the prior-year period.
Operating profit was US$6.8 billion compared with US$3.6 billion in the prior year.
The Company declared a dividend of US$ 1.258 per share, – an increase of 25 percent compared with last year -, payable on April 06, 2017, for share holders on record on February 24. The ex-dividend date is set on February 22, 2017.
Below chart shows the 1-year chart of the shares of Rio Tinto in which we can see that shares of the company has appreciated approx. with 63 percent in the last 12 months.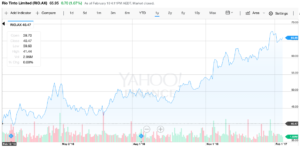 GOLD PRICE HIT THREE-MONTH HIGH:
As can be seen from below charts, the gold price hit a new three-month high above US$1,241 an ounce on Wednesday, February 8, 2017, on FREXIT fears.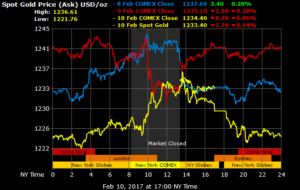 Ms. Marine Le Pen, – a French attorney and politician who is a leading candidate for the French presidency in the upcoming April-May elections -, stoked fears of a "FREXIT" – France leaving the European Union – with her promise of a "radical" renegotiation of membership terms in the six months after the election.
At times of geopolitical tension, investors run for cover, usually in gold, causing the price of the yellow metal to rise and close the week on Friday February 10 at US$ 1,233.40  – the highest it has been since 11 November, in the days after Trump won the US presidential election, as can be seen from below chart.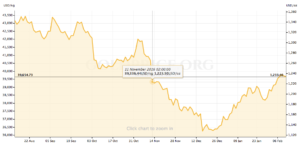 PGM CAPITAL ANALYSIS & COMMENTS:
Rio Tinto Outlook:
Rio Tinto is poised to grow on the back of product portfolio solidification, lucrative projects, solid balance sheet, increased cash flow generation and greater operational efficacy.
The company also intends to provide higher value to shareholders on the back of lucrative dividend and share buyback programs.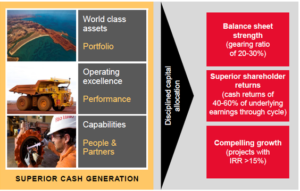 By 2021, the company estimates to generate free cash flow worth U$5 billion and capital expenditure is anticipated to be around US$5 billion by the end of 2017 and around US$5.5 billion in each of 2018 and 2019.
Below chart show the stock price performance of RIO TINTO, compared with its peers in the mining sector, in the period of January 10, 2017 up to February 9, 2017.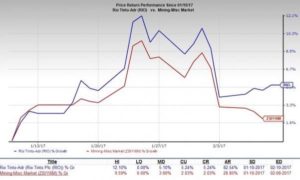 Based on the company's fundamentals we have a BUY rating on the shares of the company.
Gold price at 3-month high:
If you thought 2016 was a rough year then I'm afraid I've got some bad news: several finance experts are predicting that 2017 will hold plenty of shocks for your portfolio too.
From the threat of a far-right National Front victory in the French presidential elections to the return of the Greek debt crisis – and of course, the uncertainty surrounding the Donald Trump presidency – there is set to be plenty of drama that will have an impact on markets.
With the potential for a turbulent year on the stock markets gold, a tried and tested safe haven investment, is looking attractive to investors.
Based on this we have a BUY rating on the yellow metal and the stocks of its producers.
Until Next week.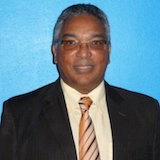 Eric Panneflek