Dear PGM Capital blog readers,
In this weekend blog edition, we want to discuss some of the most important events that happened in the global capital markets, the world economy and the world of money in the week of May 01, 2017:
Puerto Rico filed for bankruptcy on May 03, 2017.
Royal Dutch Shell reported blockbuster Q1-2017 earnings.
PUERTO RICO FILED FOR BANKRUPTCY:
On Wednesday, May 03, Puerto Rico announced a historic restructuring of its public debt, touching off what may be the biggest bankruptcy ever in the US$3.8 trillion U.S. municipal bond market.
Puerto Rico's status as a US territory means that it is unable to restructure its debt as a state would, by invoking chapter nine of the US bankruptcy code.
Puerto Rico's governor, Ricardo Rosselló, who announced the move on Wednesday after failing to convince creditors to accept a deal, said the territory had no other choice.
In a statement he said:
"We have reached this decision because it protects the best interests of the people of Puerto Rico,"
ROYAL DUTCH SHELL EARNINGS MORE THAN DOUBLED:
On Thursday May 04, Anglo-Dutch group, Royal Dutch Shell (RDSA.AS) reported that its profits more than doubled in the first quarter of this year.
As can be seen from below table, the company's earnings on a current cost of supply basis rose to US$ 3.538 billion in the three months to the end of March, from US$ 1.541 billion in the same period last year, an increase of approx. 130 percent.
Highlights by the numbers:
| Results* | Q1 2017 | Q4 2016 | Q1 2016 |
| --- | --- | --- | --- |
| Revenue | US$ 71,796 | US$ 64,767 | US$ 48,554 |
| Net income | US$ 3,538 | US$ 1,541 | US$ 484 |
| Earnings per share (ADS) | US$ 0.86 | US$ 0.38 | US$ 0.14 |
| Operational cash flow | US$ 9,508 | US$ 9,170 | US$ 611 |
Earnings from upstream, which involves exploration and production, came to US$ 540 million, compared with a loss of US$ 1.4billion last year.
Those from integrated gas, including the processing and distribution of liquefied natural gas, rose 19 percent to US$ 1.18billion.
Downstream earnings, from refining, chemicals, trading and marketing, increased 24 percent to US$ 2.49billion.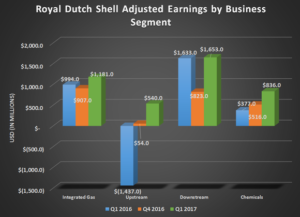 The company declared a quarterly dividend of US$ 0.47 per share, payable on June 26, 2017, on share holders on record on May 17, 2017, with an ex-dividend date of May 17, 2017.
PGM CAPITAL ANALYSIS AND COMMENTS:
Puerto Rico:
Puerto Rico has filed for a form of bankruptcy in a desperate bid to stave off creditors and maintain essential services to its 3.4 million citizens, nearly half of whom live in poverty.
If Puerto Rico were a country, it would be the 13th most indebted country in the world.
The painfully of Puerto Rico's bankruptcy is the fact that in the sixties en seventies the island nation, was the most prosperous Caribbean nation and that the country now has the lowest credit rating of the region.
The oversight board appointed to lead the U.S. territory back to fiscal sustainability of Puerto Rico, declared in a court filing that it is "unable to provide its citizens effective services," crushed by US$74 billion in debts and US$49 billion in pension liabilities.
More or less the same is applicable for Barbados and Venezuela, which once were top ranked countries in the Caribbean area and have to see their level of prosperity and subsequent their credit rating into "substantial risk area".
Below table shows the ranking Top 5 countries in the Caribbean Area with the highest credit rating:
Top 5 Caribbean Countries
Country
Rating
Outlook
Cayman Island
AA-
Stable
Curacao
A-
Stable
Aruba
BBB+
Positive
Turks & Caicos
BBB+
Stable
Trinidad & Tobago
BBB+
Stable
Bottom 3 Caribbean Countries
Country
Rating
Outlook
Puerto Rico
D
Negative
Barbados
CCC+
Negative
Venezuela
CCC
Negative
Royal Dutch Shell:
In a statement Shell said, that assets acquired from BG in Brazil and Australia helped the company record a third consecutive quarter during which cash flow was sufficient to cover its dividend and capital investment, helping keep the shareholder payout steady at US$ 0.47 per share.
The company's chief financial officer Ms. Jessica Uhl said:
That the group's top priority remained debt reduction and improving operational performance to cope with lower oil prices which remain half the level of three years ago. Based on this she said that Shell's debt-to-equity ratio, fell to 27.2 percent in Q1-2017, from 28 percent at the end of last year.
She added Shell was aiming to lower its debt-to-equity ratio to 20 percent, at which point the company would "turn off" the scrip dividend under which shareholders are entitled to claim their payout in the form of shares rather than cash.
Ms. Uhl also said Shell intended to launch stock buybacks once cash flows were strong enough.
Based on the company's fundamentals, strong balance-sheet and dividend yield of 7.2 percent we have a STRONG BUY rating on the stock of the company.
Shell's CFO, Ms. Jessica Uhl has stated that as soon as the company's debt-to-equity ratio is 20 percent, she will decide to stop the current DRIP plan of the company, we have foreseen this and are advising our clients to enroll the Company's dividend into the company's Dividend ReInvestment Plan in order to increase their holdings of the company's shares exponentially.
Last but not least, before following any investing advice, always take your investment horizon and risk tolerance into consideration and keep in mind that commodity prices as well as the securities of their producers, can be very volatile and that sharp corrections might happen in the short term.
Yours sincerely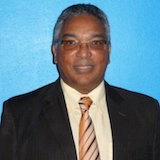 Eric Panneflek