Dear PGM Capital Blog readers.
Friday, January 20th at noon EST, Mr. Donald Trump took the oath to become the 45th president of the USA and USA stock markets reacted positively to it and as follows:
The Dow Jones Industrials climbed by 95 points and there were similarly modest advances for the S&P 500 and Nasdaq Composite.
Many market participants pointed last Friday's gains as a natural bounce after five straight days of losses for the DOW as can be seen from below chart.

With the broader market waiting for more clarity on the political and economic outlook looking ahead to the rest of the year, many investors looked to individual stocks rather than the market, as a whole.
MARKET LOSERS:
Among the worst performers on Friday, was Bristol-Myers Squibb (NYSE: BMY).
As can be seen form below chart, the company's share price 11% after saying late Thursday that it would not seek an accelerated regulatory review from the U.S. Food and Drug Administration for its proposed combination therapy for lung cancer.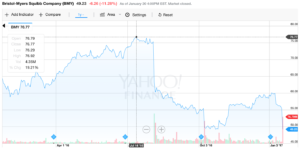 Above chart shows also that the stock is down approx. 35% from peak of June 14, 2016.
MARKET WINNERS:
Palladium price surges to 22-month high:
On Friday, January 20, the palladium price continued its strong run with Nymex contracts jumping 5% to $794 an ounce, bringing gains for the precious metal so far in January to 18% or more than some US$120 an ounce, as can be seen from below chart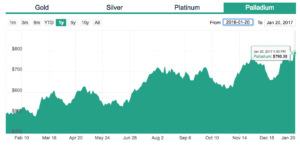 Sister metal platinum has also gained year-to-date, exchanging hands for US$980 an ounce on Friday.
The price strength comes on the back of declining output from top producer South Africa, which together with Russia is responsible for more than 80% of global supply of the metals.
Data released at the beginning of the week showed South African output fell by 8.9% year on year and 3.4% month on month in November.
PGM CAPITAL ANALYSIS AND COMMENTS:
President Donald Trump begins his tenure with greater exposure to this disabling flaw than many of his predecessors.
Trump is promising – or threatening – to remake much of the federal government, as if voters sent him to Washington to dismantle institutions that have upheld the nation for decades. Some of those institutions are clearly malfunctioning, and Americans want change. But voters conveyed a straightforward message on Election Day: They want more prosperity.
They want to feel safer and want government to work better.
Like every president, Trump's job is to fix what's broken. But he must also be sure not to break what is working. This is where it gets tricky, because in his campaign rhetoric, Trump often blamed dubious causes for the problems Americans care most about.
Jobs:
Americans want better jobs that provide more opportunity, more financial security and a middle-class lifestyle, they don't particularly care how President Trump improves the economy. They just want it to be better.
Trade: 
Trump got surprising traction on this issue in the campaign, especially as he bashed China and Mexico for taking American jobs. But it would be a mistake to conclude Americans feel strongly about trade one way or another. Trade is nothing more than a proxy for jobs and prosperity. If prosperity improves through free trade, great; if it improves through protectionism, that's fine too. Nobody cares. But if Trump were to begin imposing tariffs that push up prices, he'll quickly discover that Americans like cheap imported goods and will punish anybody who takes them away.
Taxes: 
Everybody wants a tax cut, but Trump's plan favors wealthy Americans and corporations far more than the middle class, and if he doesn't deliver on jobs, a tax plan that's supposed to stimulate the economy will end up looking like a giveaway to elites.
Healthcare: 
Like many other Republicans, Trump vilified the Affordable Care Act, which is on its way to being repealed. But Americans aren't as opposed to the ACA as Trump may think. What voters really want is a break from healthcare costs that are rising much faster than incomes, and have been for years.
Regulations:
Business owners feel overregulation acutely, especially at the state and local level where permits are often necessary at every step and bureaucratic rules seem to impede commerce. Trump can do some good by slashing obsolete or intrusive regulations that accomplish little. But again, if voters don't associate this with improved prosperity, it will seem like another sop to corporate interests.
Security: 
Trump will undoubtedly have to deal with terrorist incidents and mass shootings, as every other modern president has had to. He promised to do more than President Obama to keep Americans safe, such as getting tougher on Islamic State in the Middle East and banning immigrants from certain countries. But if Trump takes those steps and troubling incidents continue anyway, he'll look feckless and perhaps even reckless.
The USA National debt he inherited from Obama:
Based on quarterly data released by the US Treasury, the debt at the end of 2008 – just before Obama took office –  stood at roughly US$10,699,805,000,000, as can be seen from below chart.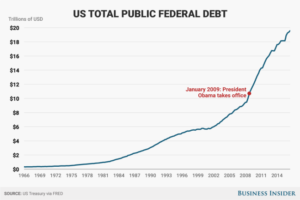 As of the third quarter of 2016, the most recent data available, the debt as Obama is set to leave office stood at US$19,573,445,000,000.
Based on the website USdebtclock.com, which extrapolates the US national debt in real time based on committed government spending, the debt will be roughly US$19.97 trillion when President-elect Donald Trump takes office on Friday.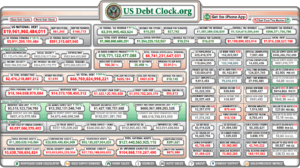 Thus, the national debt under Obama will have grown by about US$9 trillion, or an increase of 86%.
Based on the above the market will watch the first 100 days of Trumps presidency very closely, and due to this we can expect increasing volatility in the global capital markets.
Until next week.
Yours sincerely,
Eric Panneflek