Dear PGM Capital Blog reader,
In this weekend's blog article, we want to look back on the first quarter of 2019, which will go into history's best quarter, for stocks, in nearly a decade.
INTRODUCTION:
World's Capital Markets ended a profitable first quarter on a positive note as US-China trade talks resume, despite recent volatility.
Asia:
China was the standout world market, on Friday, March 29, as it closed the quarter with a 3.2%+ rise in the Shanghai Composite Index. The closely watched index, which broke through 3,090 points in the month of March and is up over 25% in the quarter, as can be seen from below chart.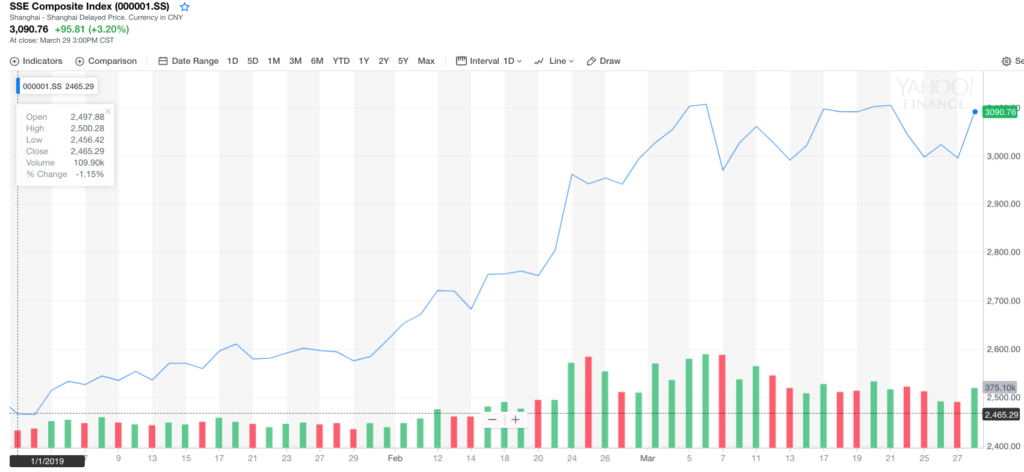 One of the triggers of the rally was a resumption of trade talks between the US and China.
Hong Kong and Japanese posted on Friday, March 29, respectively gains of 0.96% and 0.82%, to close the quarter respectively at 29,051.36 and 21,205.81 points.
Europe:
United Kingdom:
On Friday, March 29, the UK Q4-2018 GDP was revised up for the final estimate: the economy grew by 1.4% year on year, according to the Office for National Statistics. The upgrade failed to lift the pound, which has sagged to $1.30 as the Brexit impasse overshadows everything. The UK currency started the month at $1.33 but has since lost ground. Still, this political deadlock has helped equity investors in March, with the FTSE 100 nudging up 545 points, or 8.1 percent, in the first quarter close at 7,279 points on Friday March 29, as can be seen from below chart.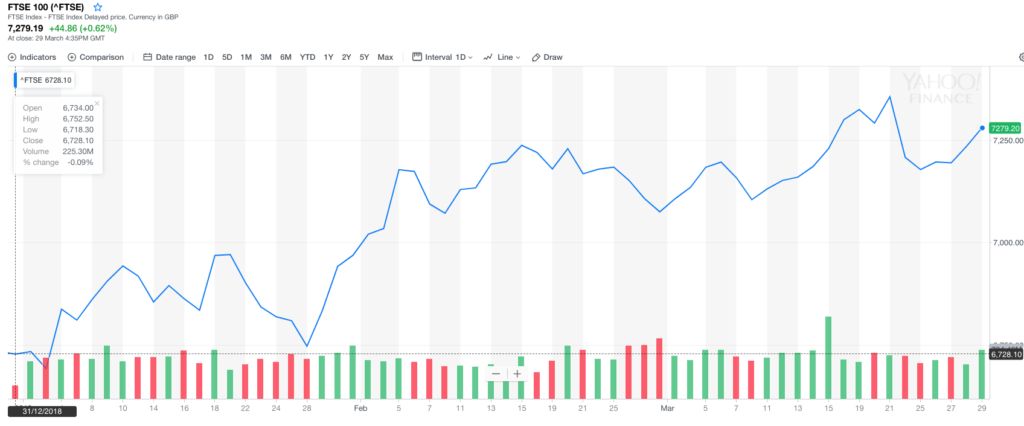 A further vote is expected this afternoon on the withdrawal agreement but not the political declaration attached to the UK's withdrawal from the EU.
Germany:
The German, DAX index has edged higher on Friday, March 29 to close at 11,526.04 points, up 0.86%. For the first quarter of 2019, the DAX-30 appreciated with 946 points or 8.94 percent as can be seen from below chart.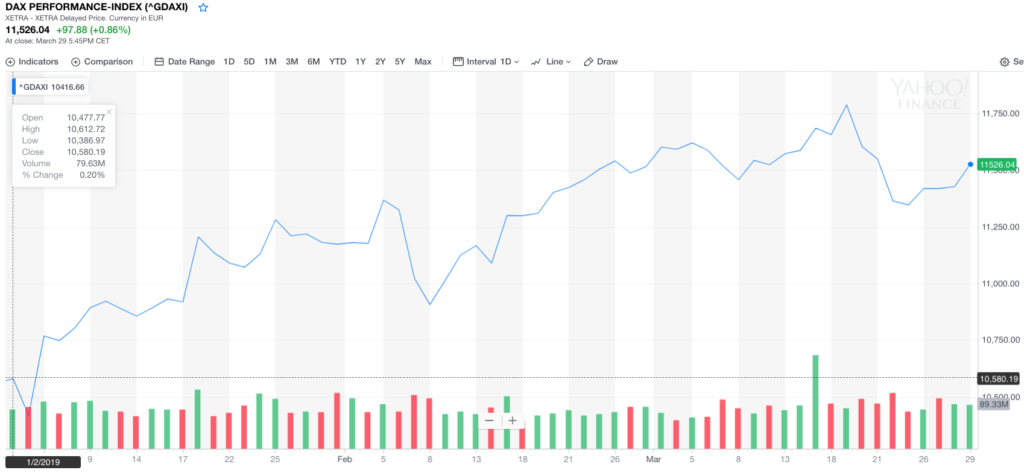 In economic news, German retail sales slowed to 0.9%, but beat the estimate of -1.0%. Unemployment claims fell by 7,000, shy of the estimate of 10,000. The unemployment rate for March dipped to 4.9% from 5.0%, the lowest level since reunification in 1990.
North America
USA:
After flirting with a bear market at the end of 2018, the S&P 500, nudged up 328.4 points or 13.1 percent in the first quarter of this year to close on Friday March 29, at 2,834.40 points as can be seen from below chart.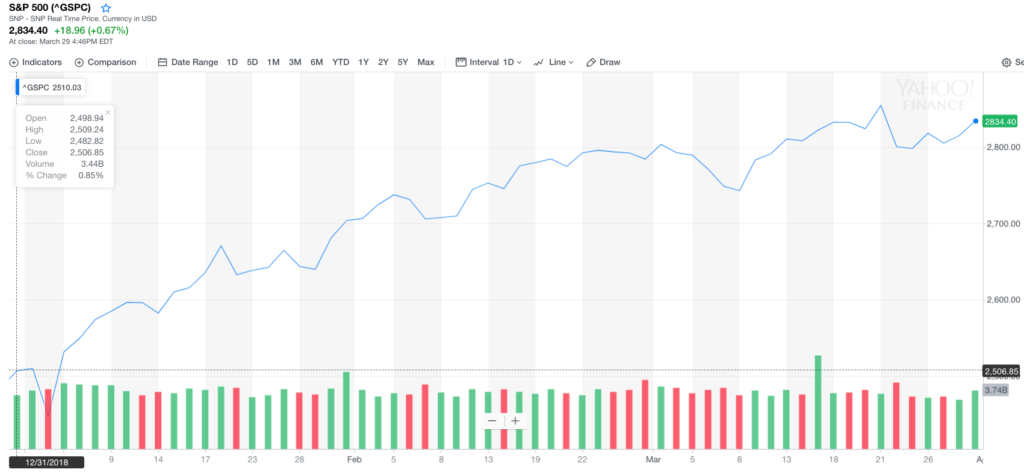 Canada:
On Friday Statistics Canada reported, that real gross domestic product grew 0.3 percent in January as the economy bounced back after contracting in November and December.
For the quarter ending March 31, 2019, the Canadian, bench mark the S&P/TSX appreciated with 1,779.2 points or 12.40 percent as can be seen from below chart.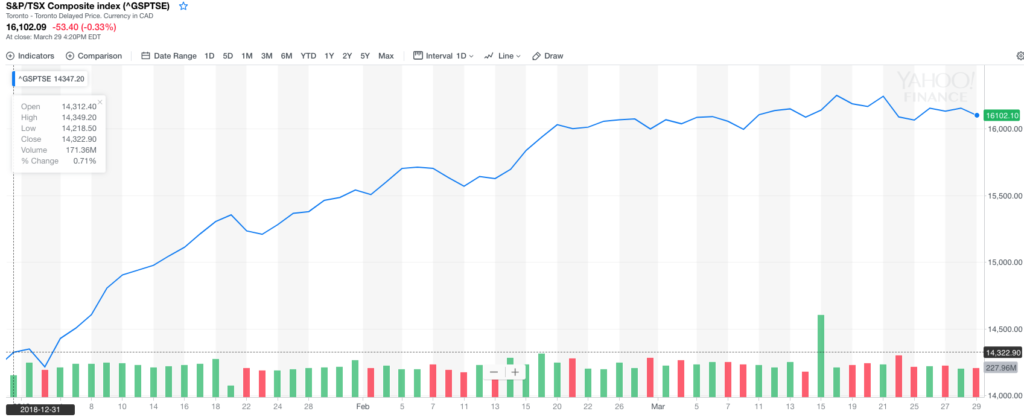 PGM CAPITAL's ANALYSIS & COMMENTS:
Outlook Q2-2019:
Markets are caught between incoming data pointing to slower global growth and forward-looking factors that suggest improvement later in the year.
We think global cycle conditions will moderately improve as we head deeper into 2019, but we see the window of opportunity for equity markets as limited.
USA:
We have an underweight preference for U.S. equities, mostly driven by expensive valuations. The U.S. Federal Reserve (the Fed)'s pause on interest-rate hikes has helped push markets up, but wage growth is already threatening corporate profit margins.
Europe:
While Europe has suffered from several one-off events that have depressed growth, but we view most of these as temporary and expect to see growth in the region improve through the year.
Fiscal easing is likely to provide a decent tailwind, with the European Commission expecting that eurozone fiscal thrust will be 0.4% of GDP (gross domestic product) this year.
United Kingdom:
The ongoing Brexit uncertainty has been detrimental to the British economy. Corporate confidence is low, which prevents businesses from investing. The consumer is pessimistic, slowing demand for durables such as houses and cars.
Asia:
The Asia-Pacific region is set to benefit from the increased focus on policy stimulus from the Chinese government. We think emerging Asian equities should be able to deliver around 10% earnings growth for 2019.
Disclosure:
The views in this Global Market Outlook report are subject to change at any time based upon market or other conditions and are current as of March 31, 2019.
Last but not least, before taking any investment decision, always take your investment horizon and risk tolerance into consideration. Keep in mind that; share prices do not move in a straight line. Past Performance Is Not Indicative Of Future Results. Technology stocks and stocks of emerging markets, experience a higher volatility than the ones of develop market big-caps.
Yours sincerely,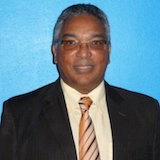 Eric Panneflek