Dear PGM Capital Blog readers,
In this weekend blog article, we want to take the opportunity to discuss with you, why investing in Huya Inc, can be lucrative for growth investors.
INTRODUCTION:
Esports, (also known as electronic sports, e-sports, or eSports) which is a form of competition using video games, as spectator entertainment, has attracted increased investor interest as of late.
With the category posting rapid growth and still in a relatively nascent state, it's not hard to see why. SuperData Research estimates that more than 660 million people worldwide watched video gaming content in 2017, and both viewership and monetization look primed for continued growth.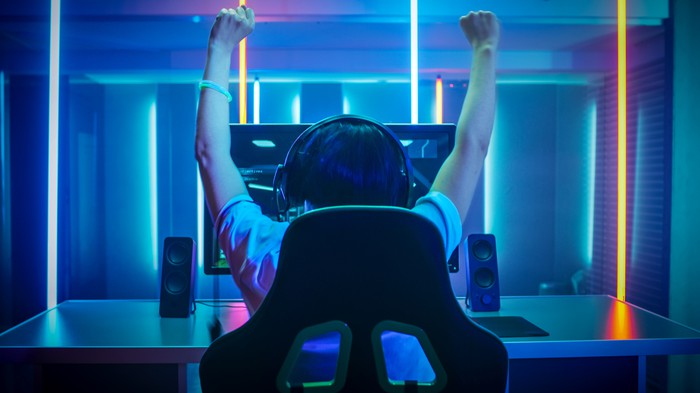 By 2019, it is estimated that 427 million people worldwide will be watching some form of esports. The increasing availability of online streaming media platforms has become central to the growth and promotion of esports competitions.
ABOUT HUYA Inc.
HUYA Inc., (NYSE: HUYA) through its subsidiaries, operates game live streaming platforms in the People's Republic of China.

Its platforms enable broadcasters and viewers to interact during live streaming. The company also provides advertising and online game-related services.
As of December 31, 2017, its live streaming content covered approximately 2,600 games, including mobile, PC, and console games.
The company founded in 2014 and is based in Guangzhou, China. HUYA Inc. is a subsidiary of YY Inc. (Nasdaq: YY).
HUYA's Q4-2018 & FY-2018, FINANCIAL RESULTS:
On Monday, March 4, 2019, announced its unaudited financial results for the fourth quarter and fiscal year ended December 31, 2018.
Fourth Quarter 2018 Highlights:
Total net revenues[for the fourth quarter of 2018 increased by 103.1% to RMB1,504.9 million (US$218.9 million), from RMB741.0 million in the same period of 2017.
Net income attributable to Huya was RMB99.6 million (US$14.5 million) for the fourth quarter of 2018, representing an increase of 1,900.4% from RMB5.0 million in the same period of 2017.

Diluted net income per American Depositary Share ("ADS") was RMB0.45 (US$0.07) for the fourth quarter of 2018, compared with diluted net loss per ADS of RMB0.05 for the same period of 2017. Each ADS represents one Class A ordinary share.
Non-GAAP diluted net income per ADS was RMB0.76 (US$0.11) for the fourth quarter of 2018, compared with RMB0.19 for the same period of 2017.

Non-GAAP net income attributable to Huya was RMB166.9 million (US$24.3 million) for the fourth quarter of 2018, representing an increase of 486.8% from RMB28.4 million in the same period of 2017.
Total number of paying users in the fourth quarter of 2018 reached 4.8 million, representing an increase of 73.1% from 2.8 million in the fourth quarter of 2017.
For the first quarter of 2019, the company currently expects total net revenues to be in the range of RMB 1,510 million to RMB 1,550 million, representing a year-over-year growth of between 79.0% and 83.7%. This forecast reflects its current and preliminary views on the market and operational conditions, which are subject to change.
PGM CAPITAL's ANALYSIS & COMMENTS:
Huya's platform boasts a large user base and impressive engagement: the company reports that the average user spends 99 minutes a day on the service.
Gaming videos look like a category with long-term viability, and there's an encouraging growth environment in China. As a result, the excitement surrounding Huya isn't hard to contextualize.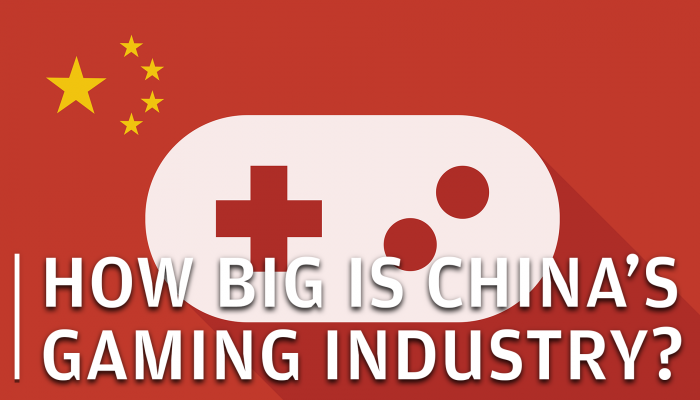 China counts 800 million people out of its 1.4 billion population as internet users, a tremendous figure that positions it as the world's biggest internet market by far, and one that still leaves room for massive expansion.
The country's large, expanding connected population and fast-growing consumer economy create a favorable backdrop for tech-and-content services, and could help Huya deliver rapid revenue and earnings growth.
Huya's path to growth:
A report commissioned by market researcher Frost & Sullivan estimates total revenue for the Chinese gaming market in 2017 at $32.2 billion and a compound annual growth rate of 13.3% through 2022.
Due to bandwidth costs and other factors, video streaming isn't cheap. However, one advantage that Huya has is, that it doesn't have to buy licensing rights or fund production for the vast majority of the content on its platforms.
Gamers are eager to network and share their virtual exploits. This means that there are hours upon hours of independently sourced content broadcast through the platform on a daily basis.
As can be seen from below chart, shares of the company has appreciated with approx. 72.5 percent YTD.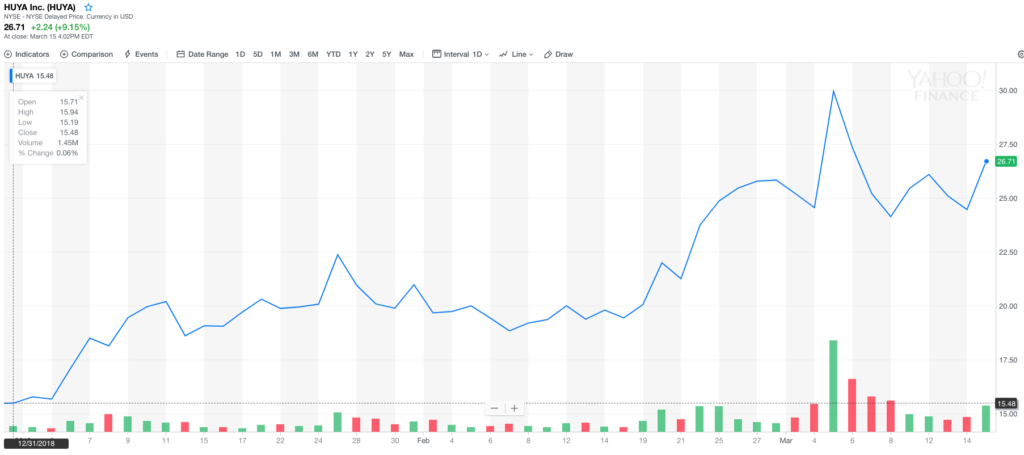 Based on company's fundamentals and projected growth of Chinese gaming market for the coming years, we have initiated our coverage of the shares of Huya Inc., with a BUY.
Disclosure:
I/We are long share holders of Huya Inc.
Last but not least, before taking any investment decision, always take your investment horizon and risk tolerance into consideration. Keep in mind that; share prices don't move in a straight line. Past Performance Is Not Indicative Of Future Results. Technology stocks and stocks of emerging markets, experience a higher volatility than the ones of develop market big-caps.
Yours sincerely,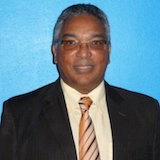 Eric Panneflek