Dear PGM Blog reader,
In this weekend blog article, we want to take the opportunity to discuss with you, why Investing in "Ping An Insurance Group" (2318.HK), can be lucrative for value investors.
INTRODUCTION:
Ping An Insurance known also as Ping An of China, full name Ping An Insurance (Group) Company of China, Ltd. is a holding company whose subsidiaries mainly deal with insurance, banking, and financial services.
The company was founded in 1988, has approx. 190,000 employees and has its headquarter in Shenzhen, China.
Ping An literally means "safe and well".

Ping An Insurance is one of the top 50 companies in the Shanghai Stock Exchange. Ping An is also a component of Hang Seng Index, an index of the top 50 companies in the Hong Kong Stock Exchange.
Ping An Insurance was also included in the pan-China stock indices CSI 300 Index, FTSE China A50 Index and Hang Seng China 50 Index.
It is the world's largest and most valuable insurance company, worth US$216 billion, as of November 24, 2017.
TIMELINE TO WORLD'S NO.1 INSURER:
Ping An overtakes Allianz as world's most valuable insurance brand:
In May, of 2017, China's Ping An Insurance (Group) has surpassed Germany's Allianz AG as the world's most valuable insurance brand, the first time a mainland Chinese company has risen to the apex of the 100 most valuable companies worldwide, according to Britain's Brand Finance.
Ping An, the second-biggest Chinese insurer by premium income, has a brand value estimated at US$16 billion in 2017, a 29 percent increase from last year, according to Brand Finance as can be seen from below chart.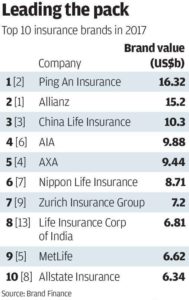 The brand value of Allianz fell 7 percent to US$15 billion to take second spot.
China Life Insurance, the country's largest life insurer by premium, stayed unchanged in the third place with a brand valued of US$10.3 billion.
Ping An Rallies to second Larger Insurance by Market Capitalization:
On Wednesday, surge in Ping An Insurance (Group) Co's shares this year has made it the world's second-largest insurer by market value after Berkshire Hathaway Inc. And the rally may not be done yet.
As can be seen from Shares of the Chinese insurer, which more than doubled this year to boost the company's market valuation to about US$210 billion, jumped to a new record on Wednesday, November 22, after chief financial officer Jason Yao told reporters that the firm's technological prowess was under-rated.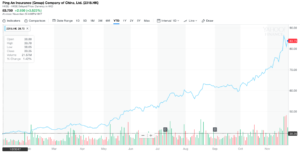 Ping An's valuation has much room to increase as the company gradually spins off Internet technology units for their own listings, Yao said on Monday in Shenzhen, where the company held its investor day.
The World's Largest Insurers 2017 Global 2000:
The FORBES Global 2000 ranking of World's Largest Insurers, is based on a composite score from equally-weighted measures of revenue, profits, assets and market value.
Ping An Insurance Group ranks first among insurers.
Over the 12 months to April 7, when Global 2000 data was locked in, Ping An generated US$106.6 billion in revenue, US$9.5 billion in profits and its market capitalization stood at $100.8 billion. The tech-driven company boasted of 131 million customers at year-end 2016, up 20% from the beginning of the year, with nearly a quarter of the newcomers coming in online.
Germany's Allianz ranks #2 among insurers, while France's AXA Group, ranked #3
Below table shows the complete top 10.
World's  Top 10 Biggest Insurance Companies In 2017
Company's Name
Country
Ranking
Ping An Insurance Group
China
1
Allianz
Germany
2
AXA Group
France
3
Japan Post Holding
Japan
4
China Life Insurance
China
5
Prudential
United Kingdom
6
Zurich Insurance Group
Switzerland
7
Chubb
Switzerland
8
AIA Group
Hong Kong
9
Munich Re
Germany
10
Among the world's 25 largest insurers, China, Japan and the United States each house four, Switzerland and the United Kingdom house three, Germany has two, and Canada, France, Italy, Hong Kong and Taiwan each claim one spot.
PGM CAPITAL & COMMENTS:
After spending heavily on technologies in the past few years, Ping An is entering "harvest time" as such investments enhance its financial services, tech products bring in new revenue, and potential spin-offs of units create additional value for shareholders, Jason Yao, CEO of Ping An, said on Monday, November 20, in Shenzhen, where the company held its investor day.
The market had been valuing Ping An Insurance as a pure insurer and ignoring the technology side of the company, while the management also believed it's been undervalued.
Investors are betting the company could benefit from its financial technology strength and boost overall business.
Ping An versus Berkshire Hathaway:
On the close of the market on Friday, November 24, Berkshire Hathaway had a market cap of 451.581 Billion US-Dollars, while Ping An insurance market value, was 216.72 Billion US-Dollars
Ping An regards Berkshire Hathaway as not directly comparable – and so calls itself the world's largest insurance group.
Below chart shows the 10-year chart of the shares of Ping An, (blue chart) and Berkshire Hathaway (red chart)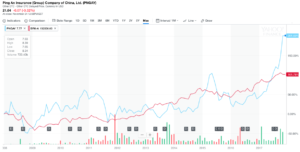 China Life Insurance Co, with a market value of US$135 billon, is the second-biggest Chinese insurer by that measure.
Based on the company's business model, strong balance-sheet, its ability to increase its dividend Year-Over-Year, and the fact that the company is able to grow its earnings as well as its revenues Year-Over-Year with triple digit, we have a BUY rating on the shares of the company.
Last but not least, before taking any investment decision, always take your investment horizon and risk tolerance into consideration and keep in mind that the market can remain irrational longer, than you can stay solvent.
Yours sincerely,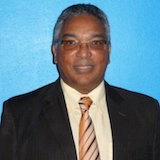 Eric Panneflek