Dear PGM Blog reader,
In this weekend blog article, we want to take the opportunity to discuss with you, why Investing in Reckitt & Benckiser Group plc, can be lucrative for value investors.
INTRODUCTION:
Reckitt & Benckiser Group plc (RB.L) is a British multinational consumer goods company headquartered in Slough, England, which employs approximately 36,000 people worldwide, and has operations in around 60 countries and its products are sold in nearly 200 countries.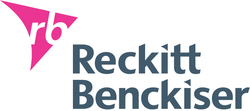 It is a producer of health, hygiene and home products, which was formed in 1999 by the merger of the UK-based Reckitt & Colman plc and the Netherlands-based Benckiser NV.
The majority of the company's products are into three main categories – health, hygiene and home – with other brands belonging to three further categories: food, pharmaceuticals and portfolio brands. The company's strategy is to have a highly focused portfolio concentrating on its 19 most profitable brands, which are responsible for 70% of net revenues
The companies brands include beside others, the antiseptic brand Dettol, the sore throat medicine Strepsils, the hair removal brand Veet, the immune support supplement Airborne, the air freshener, Air Wick, Calgon, Clearasil, Cillit, Bang, Durex, Lysol, Mycil and Vanish.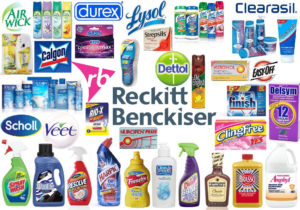 In 2014, Reckitt Benckiser announced it was dropping its full name in favour of RB. According to the chief executive, Rakesh Kapoor, the old name was "a bit of a mouthful" and the name change would make life easier.
Reckitt & Benckiser Group, shares are listed on the London Stock Exchange and is a constituent of the FTSE 100 Index.
PGM CAPITAL ANALYSIS & COMMENTS:
Reckitt Benckiser is in the top 25 of companies listed on the London Stock Exchange. Today it is either the global  No 1 or No 2 in the majority of its fast-growing categories, driven by an exceptional rate of innovation.
RB has close to half of its revenues coming from emerging markets and the rest from developed market area. RB people and its culture are at the heart of the company's success. They have an intense drive for achievement and a desire to outperform wherever they focus, including in sustainability where the company has reduced its carbon footprint by 20% in 5 years and is now targeting to deliver a 1/3 reduction in water impact, 1/3 further reduction in carbon and to have 1/3 of its net revenue coming from more sustainable products by 2020.
RB take over of Mead Johnson:
On 10 February 2017, Reckitt Benckiser Group announced it had agreed to buy Mead Johnson (NYSE: MJN).

Under the terms of the merger agreement between Mead Johnson and RB, stockholders of Mead Johnson will receive $90 in cash for each share -valuing the total equity at US$16.7billion – upon closing of the transaction, and Mead Johnson will become a new division of RB, with its globally-recognized Enfamil® and Nutramigen® brands joining RB's portfolio of leading consumer health brands.
Stock price & Dividends:
As can be seen from below 5-year chart the shares of the company have grown from GBP 35.597 a share, on September 30, 2012, to GBP 68.13 a share, at the close of the market on Friday September 29, 2017, an increase of approx. 91.39 percent.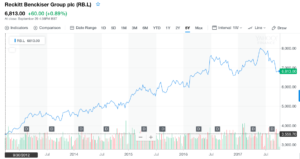 As can be seen from below chart, the company's increased its yearly dividend from GBP 0.45 in FY-2006 to GBP 1.532 in FY 2016, an increase of its dividend with approx. 240 percent in 10-years.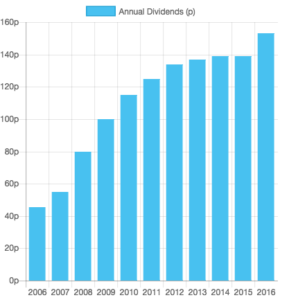 Based on the company's fundamentals, strong brands and product mix, we have a BUY rating on the shares of the Company.
Last but not least, before taking any investment decision, always take your investment horizon and risk tolerance into consideration and keep in mind that; share prices don't move in a straight line and that Past Performance Is Not Indicative Of Future Results.
Yours sincerely,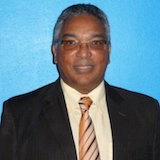 Eric Panneflek