Dear PGM Capital blog readers,
In this weekend blog article, -the first one for this year – we want to elaborate with you, on the legalization of Marijuana in eight USA states and the planned legalization in July this year in Canada.
Currently nothing on earth is growing faster than the market for legal Marijuana.
Based on this we believe that the world is about to experience one of its biggest social and economic changes in generations.
INTRODUCTION:
On Tuesday November 8, 2016, the USA not only voted for whom to become the next USA president, but in nine states they also voted on marijuana-related measures – four related to medical marijuana and five to recreational – and eight of them passed.
By a margin of about 56% to 44%, voters passed Proposition 64, making California the fifth state to legalize recreational marijuana, after Colorado, Washington, Oregon and Alaska. Later in the evening, results came in showing that voters in Massachusetts and Nevada did the same.
Before Election Night, adult use was legal in four USA states and the District of Columbia, based on the result of the poll it became legal in seven USA states, for which California has outsized clout, the most populous state and the sixth largest economy in the world
Below image shows the states in the USA, in which Marijuana has been legalized for either medical and/or recreational use.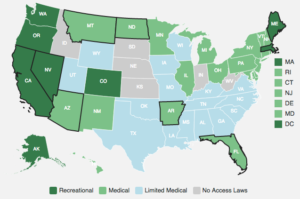 Changes in policy in places like California, will put big pressure on the USA federal governments, not necessarily to legalize and to remove all restrictions but to ease some of the contradictions of the current legal status of marijuana, which will lead to an enormous increase for the demand for Marijuana.
LEGALITY OF CANNABIS IN THE WORLD:
The legality of cannabis for general or recreational use varies from country to country. Possession of cannabis is illegal in most countries as a result of the agreement about Indian hemp, also known as hashish, in the International Opium Convention (1925). However, many countries have decriminalized the possession of small quantities of cannabis.
As of 2017, some of the countries with the laxest cannabis laws were Australia, Canada, Chile, Colombia, Costa Rica, the Czech Republic, India, Israel, Jamaica, Mexico, the Netherlands, Portugal, South Africa, Spain, Uruguay, and some U.S. jurisdictions, – as shown in the previous section of this article -.
CANADA:
Recreational marijuana is on track to be legalized in Canada by July 2018, making Canada the first Group of Seven country to allow the drug nationwide and the second in the world after Uruguay.
While the federal legislation proposed by Prime Minister Justin Trudeau's Liberal government will regulate cannabis production, the details of who can sell it and who can buy it will be largely left up to the country's provinces.
The federal government's proposed law also permits adults to grow up to four marijuana plants at home, although Quebec announced that it will not allow residents of the province to grow their own marijuana.
Retailers have been preparing to start selling legal marijuana in July, so the timing could be tight. But Canada's recreational marijuana market is expected to mean big dollars.

According to recent estimates from Marijuana Business Daily, an industry publication, annual sales for Canada's recreational marijuana market could range between CAD 2.3 billion and CAD 4.5 billion by 2021.
PGM CAPITAL ANALYSIS & COMMENTS:
The legalized marijuana sector is currently driving the fastest growing industry in the USA with over 30 percent compound annual growth as can be seen from below chart.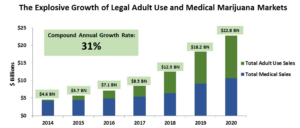 Global Growth Projection:
The global market for cannabis is projected to hit US$ 31.4 billion by 2021, according to a new report from the Brightfield Group, a cannabis market research firm. Currently, the global market is estimated to be worth US$ 7.7 billion and will see a compound annual growth rate of 60 percent as other countries liberalize their marijuana laws.
To put this in perspective, this industry growth is larger and faster than even the dot-com era of the late nineties.

The U.S. currently drives 90 percent of global cannabis sales, but its share will drop to 57 percent by 2021.
That's in large part thanks to Canada's plans to legalize recreational marijuana by July 2018. Meanwhile, countries in Latin American and Europe are increasingly adopting medical cannabis programs. And German political parties are considering recreational legalization as part of their talks in forming a coalition government.
Plenty of Canadian cannabis companies are striking international deals, exporting their products to markets in Europe and South America. As other countries liberalize their marijuana laws,
Investing in the Marijuana Sector:
We believe that the Marijuana Sector – Medical as well as Recreational – is the next BIG Bubble Sector, with major stock rallies happening almost daily.
And it may have just begun!
The Marijuana Sector could still be in it's infancy and we may never see a time like this again!
This rally may truly be ONCE-IN-A-LIFETIME. In fact, most of these stocks are still trading on the OTC exchange at just PENNIES PER SHARE.
In order to avoid the risk of investing in OTC penny Marijuana shares we believe that the best way to profit from the (coming) boom of the Marijuana Industry is by investing in the Marijuana Index ETF.

Below chart shows the 1-year performance of the Canada Marijuana Index.
We believe that investing in tiny Marijuana stocks now, is like investing in Anheuser-Busch (XNYS:BUD), Coors (XNYS:TAP), Diageo (XLON:DGE), right before right before Prohibition was overturned.
Of course nothing in the market is guaranteed, but the signs are clear.
Last but not least, before making any investment decision, always take your investment horizon and risk tolerance into consideration and keep in mind that, growth sectors, – like the legalized cannabis industry –  can be very volatile and that most of the companies in the initial state of growth will not emerge from the "Question marks Kwadrant" to the Stars Kwadrant", accordance with the "Boston Consultancy Growth Matrix" shown here above.