Dear PGM Blog reader,
In the week of June 18, as negative news piled up with little positive developments to mitigate the consequences, all major cryptocurrencies went falling down fiercely.
INTRODUCTION:
A cryptocurrency (or crypto currency) is a kind of digital or virtual currency digital currency designed to work as a medium of exchange that uses strong cryptography to secure financial transactions, control the creation of additional units, and verify the transfer of assets.
Cryptocurrencies use decentralized control as opposed to centralized electronic money and central banking systems. The decentralized control of each cryptocurrency works through distributed ledger technology, typically a blockchain, that serves as a public financial transaction database.
Bitcoin, first released as open-source software in 2009, is generally considered the first decentralized cryptocurrency Since then, over 4,000 altcoin (alternative coin) variants of bitcoin have been created.
THE WEEK OF JUNE 18, 2018:
In the week of June 18. South Korean Bithumb, the sixth largest exchange in the world, got hacked and the dumping began in fear. Indian Zebpay announced that the banks are about to cut off from banking services with cryptocurrencies, and everyone started selling cryptos like crazy.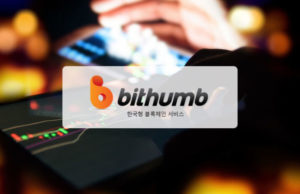 Another reason behind the sharp negative reaction came from Ireland. where a Bitcoin broker Eircoin accused Banking and Payments Federation of Ireland of discriminating against the accounts of crypto-related companies.
And in Switzerland, the Bank of International Settlements released a report that bitcoin would bring down the internet, which was followed by the Swiss National Bank saying that they are not considering an electronic version of the Swiss Franc.
The week ended with the regulator in Japan, FSA directs six crypto exchanges in the market to improve their anti-money laundering measures.
Below chart shows the performance of world's most popular cryptocurrencies in the week of June 18, 2018.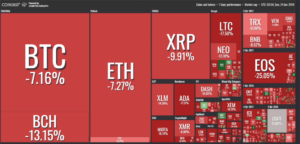 PGM CAPITAL ANALYSIS & COMMENTS:
Bitcoin:
Bitcoin (BTC-USD), world's largest cryptocurrency by market capitalization, the bellwether has seen a drop from this week highs of US$ 6,822.50 that it hit June 19 to lows of USD 6,071.81 on June 23 overall recording a knockdown of close to 7.16%.  This reduces Bitcoin's market capitalization to US$103.5 billion.
Below 1-year chart shows how the price of Bitcoin, has dropped approx. 68 percent since its peak reached on December 15, 2017.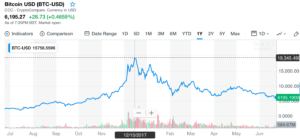 Ethereum:
Ethereum (ETH-USD) the second largest cryptocurrency by marketcap, has also not been spared by the fresh declines sweeping across the market.
It has seen a drop from the weekly peak of USD 542.35 that it hit June 19 to valleys of USD 456.88 on June 22 with reported overall declines of 7.27 %.
Below 1-year chart shows how the price of Ethereum has dropped approx. 68 percent since its peak reached on January 12, 2018.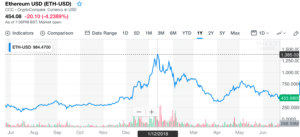 Ripple:
Ripple (XRP-USD), the third largest kid, did also see a drop of 14.21% from the highs of USD 0.558059 to lowest point of 0.477286 during the week reporting a fall of close to 10% cutting market capitalization to US$18.8 billion.
Below 1-year chart shows how the price of Ripple has dropped approx. 82 percent since its peak reached on January 6, 2018.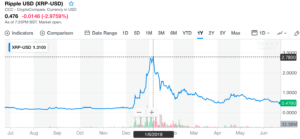 LiteCoin:
LiteCoin (LTC-USD), the world's sixth largest cryptocurrency by market capitalization fell to US$ 80.43 at the close of the market on Friday, June 22, it lowest level since November 29, as can be seen from below chart.
Finally, some of the worst performers have been outside the top five with the likes of NEO (NEO-USD) and Cardano (ADA-USD) each down over 16% during the last 24 hours.
Outlook:
The crypto market which reached 830 billion US-Dollars on January 8th 2018, has dropped by June 22, to 241 billion US-Dollars a drop of approx. 70 percent in five and a half month.
When we watch above 1-year chart of the major cryptocurrencies, they have a lot a similarities with a basic bubble curve as can be seen in below chart.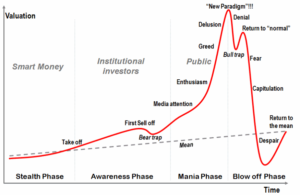 Time will tell, whether or not, these cryptocurrencies are now in the capitalization phase of a bubble curve.
With over 35 years of experience in investing in the Global Capital market, we have a STRONG SELL rating on all Cryptocurrencies.
Until next week
Yours sincerely,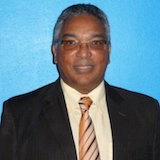 Eric Panneflek