Dear PGM Blog reader,
In this weekend blog article, we want to take the opportunity to discuss with you, why Investing in Baidu, can be lucrative for growth investors.
INTRODUCTION:
Baidu, Inc. which was incorporated on 18 January 2000, is a Chinese multinational technology company specializing in Internet-related services and products, and artificial intelligence and headquartered in Beijing.
The company was formerly known as Baidu.com, Inc. and changed its name to Baidu, Inc. in December 2008.
The company is one of the largest Artificial Intelligent and internet companies in the world. The holding company of the group was incorporated in the Cayman Islands.

Baidu, Inc. provides Internet search services in China and internationally and operates through two segments, Baidu Core and iQIYI.
The Baidu Core segment offers products for uses, including Baidu App to access search, feed, and other services using mobile devices.
The iQIYI segment provides Internet video streaming services.
Baidu has the 2nd largest search engine in the world, and held a 80% market share in China's search engine market.
The shares of the company are trading, since August 2005, on the NASDAQ exchange under the symbol BIDU.
In December 2007, Baidu became the first Chinese company to be included in the NASDAQ-100 index.
At the close of the market on Friday, June 29, the shares of the company had a market capitalization of US$ 84.7 billion.
GOOGLE VERSUS BAIDU:
While Google has a stranglehold on U.S. search, the company continues to grow and offer services globally. Google has a foothold in markets around the world; in particular, Google's presence in China, while minimal, is still apparent.
As Google maintains its stronghold in the global Internet search arena, Baidu, Inc. has the upper hand in China with 82% of the nation's online search queries. Google China, a subsidiary of Google, ranks a distant second in China's online search market with a 10% share.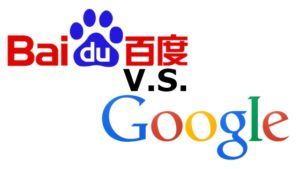 Contrary to the common perception of Baidu as an "online search specific" company, it has a large suite of products and services somewhat similar to Google. Both companies have multiple offerings across search products, social products, knowledge products, location-based products, music products, PC client software, mobile products and services, open platform for developers, games, and translation services. Nonetheless, here are the key differences between Baidu and Google:
Baidu remains a Chinese company, fully compliant with the local laws and censorship, as directed by the state government. Google has had a few rough patches with the Chinese authorities over freedom of speech and free access to information. While Google continues it operations in China, its capacity is limited.
Baidu banks on its comparatively better understanding of local Chinese language and culture, which enables it to better optimize its search technology to the needs of local users. The Chinese language is complex with some words having multiple meanings. Baidu's search algorithms place a lot of relevance to the context in which the words are used in the content. Google, both as business and as technology, appears to have struggled on these fronts in China.
Google's timely bet on buying the mobile operating system Android has allowed it a head start in the global mobile search market. It now contributes increasing proportions to Google's revenues. Lately, Baidu has built its own mobile search apps and has partnered with mobile manufacturers to integrate the Baidu search in smartphones.
Both companies generate revenue primarily through online advertising, but Google's diversification is higher compared to Baidu, and continues to increase. According with a Bloomberg report, Baidu generates 99.7% of its revenues from online marketing and ad services, while Google's advertising revenue constitutes 88% of its total.
PGM CAPITAL ANALYSIS & COMMENTS:
As China's middle class increases its ranks and as Baidu grows stronger, the stage is being set for a battle with its most direct peer Alphabet, the parent company of google.
Lu steps down as Baidu COO:
On Friday, May 18, Baidu said, that its operating chief, former Microsoft executive Qi Lu, will be stepping down in July, less than two years into his tenure there. Based on the news the shares of the company went down more than 9 percent as can be seen from below chart.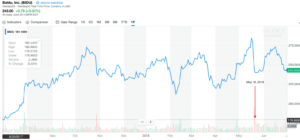 Above chart shows who the stock of the company bounced back to about US$ 275.00 per share, before falling again based on the jitter regarding a trade war between the USA and China.
Since he joined Baidu, the company has launched a smart speaker, its Duer virtual assistant, and a US$1.5 billion fund to grow its Apollo autonomous driving division.
Comparison Alphabet shares versus Baidu shares:
Below table compares the shares of Alphabet (GOOG) versus the one of Baidu (BIDU) side by side at the close of the market on Friday June 28, 2018.
Based on the above we can see that the fundamentals of Baidu are much better than the one of Alphabet.
However, with the much smaller market cap, investors have a better chance at outsized gains with BIDU. Moreover, the stage is being set for head-on competition between Google and Baidu.
Below all time chart in which we compare the performance of the shares both companies we can see the shares of Baidu, – although its lower valuation than the one of Alphabet – has widely outperformed the ones of Alphabet.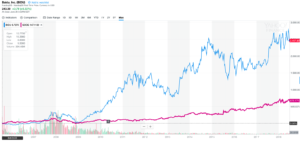 Outlook:
BIDU holds the advantage of enjoying a comparable focus to Alphabet Inc. Baidu would face as much difficulty unseating Google in the U.S. as Google would competing with Baidu in China. However, that has not stopped the Chinese internet search company to be setting the stage for a more substantial U.S. presence.
It already operates Baidu USA in Silicon Valley. For now, that remains a research center. However, this center could serve as a segue into the U.S. market. Even if Baidu struggles in search, they could make huge inroads into markets such as AI or self-driving cars.
Based on the above we have initiated our coverage of the shares of Baidu, with a BUY rating.
Last but not least, before taking any investment decision, always take your investment horizon and risk tolerance into consideration and keep in mind that; share prices don't move in a straight line, that Past Performance Is Not Indicative Of Future Results and that technology stocks and stocks of emerging markets, experience a higher volatility than the ones of develop market big-caps.
Yours sincerely,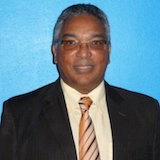 Eric Panneflek