Dear PGM Capital Blog readers,
On Sunday, October 18, China reported that its economy grew with 4.9% in the third-quarter from a year earlier, having recovered from a record contraction as lockdown measures ended and policymakers stepped up stimulus to combat the shock from the coronavirus crisis.
INTRODUCTION:
The Chinese economy is picking up steam as the country continues to dig its way out of the turmoil caused by the coronavirus pandemic.The world's second largest economy expanded 4.9% in the July-to-September quarter compared to a year ago as can be seen from below chart, from the National Bureau of Statistic of China.
Growth for the first three quarters of 2020 is now up 0.7% from a year ago.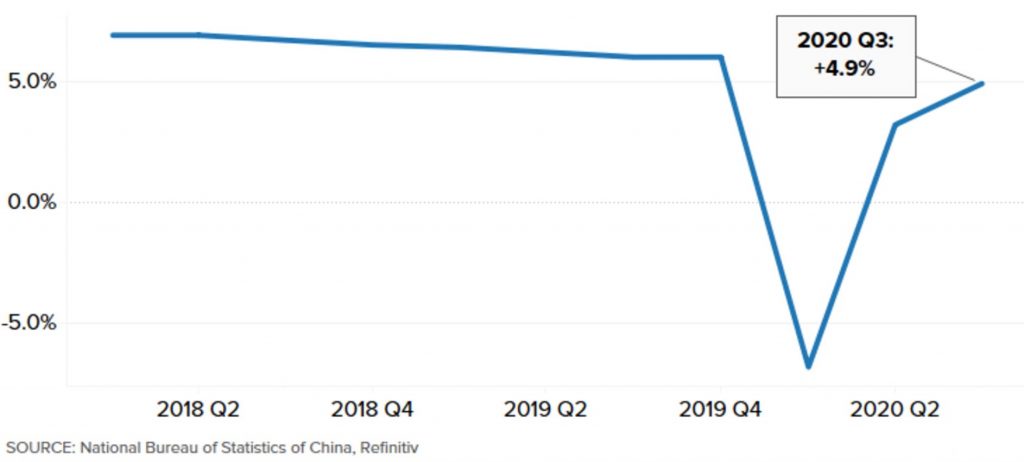 Based on its latest gross domestic product (GDP) data, China is now leading the charge for a global recovery basis.
China's economy continues to grow at rates unimaginable in other Covid-hit countries.
Draconian lockdown measures to control the virus combined with some government stimulus appeared to have worked well.
The National Bureau of Statistics (NBS) stated as well, that in the first three quarters the country's Industrial output increased 6.9% in September on an annual basis.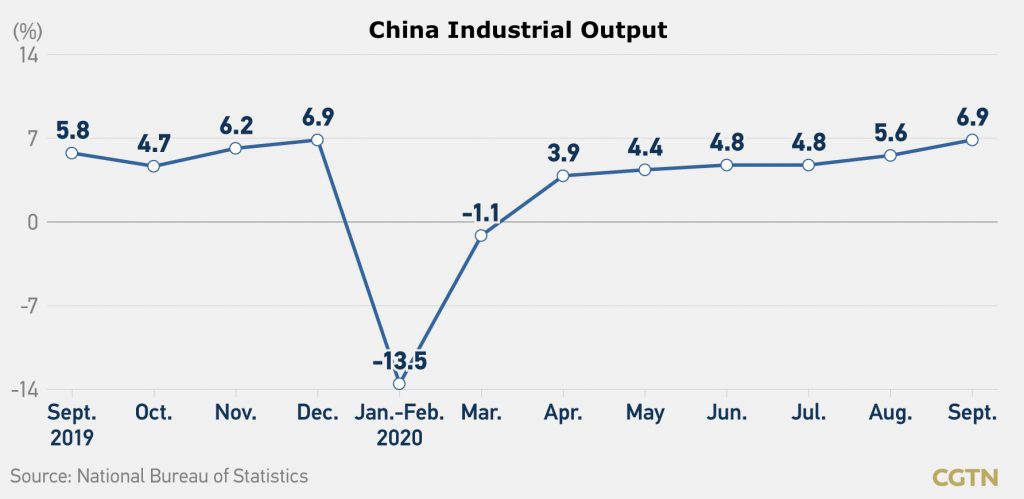 As can be seen from below chart, China recorded robust growth in foreign trade in September, with exports in U.S. dollar terms rising 9.9% from a year earlier, as demand from trading partners recovered strongly after the lift of coronavirus restrictions.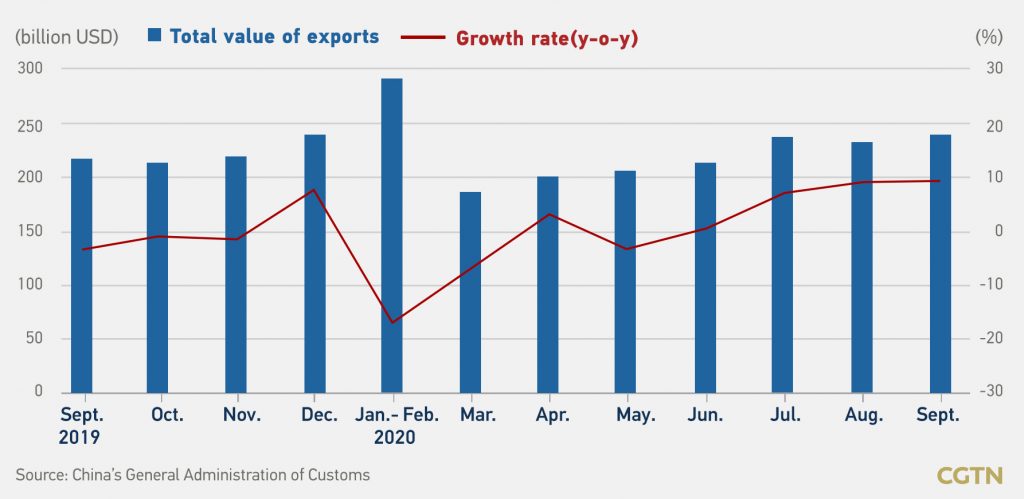 PGM CAPITAL ANALYSIS & COMMENTS:
As much of the world continues to struggle with the virus, China's recovery has been relatively speedy.
The country enforced stringent lockdown and population tracking policies intended to contain the virus, and set aside hundreds of billions of dollars for major infrastructure projects to fuel economic growth.
The positive momentum through the last six months has also helped China's economy recover all of the output it lost after a historically bad first quarter.
GDP grew a cumulative 0.7% through the first nine months of 2020, Monday's data showed.
China's trade increased in October:
On November 7, the General Administration of Customs (CAC), said in a statement, that the country's foreign trade expanded 4.6% year-on-year in October, with exports jumping 7.6% year-on-year and imports climbing 0.9% in yuan terms.
In the first 10 months, China's foreign trade of goods totaled 25.95 trillion yuan (3.91 trillion U.S. dollars), up 1.1% year-on-year, accelerating from an increase of 0.7% in the first three quarters.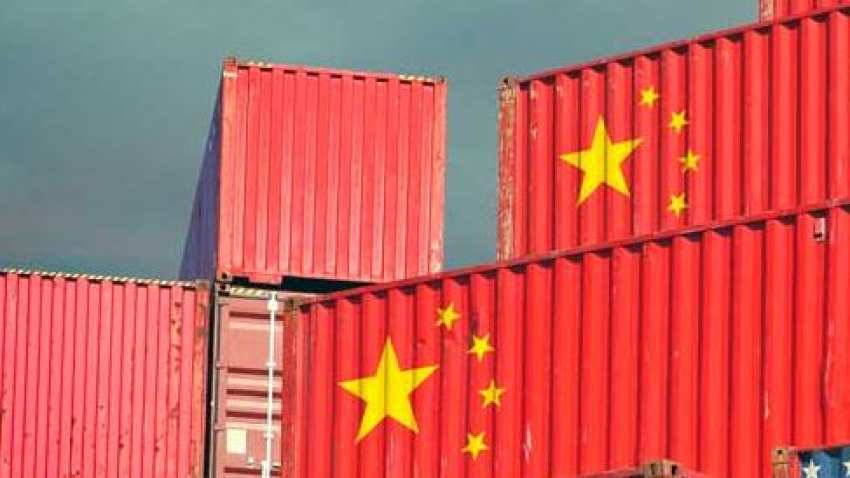 General trade, involving longer production chains and better reflecting the country's manufacturing strength, edged up 2.8% during the 10-month period, taking a larger share of the total trade of goods.
Mechanical and electrical products, export value reached 8.45 trillion yuan in the first 10 months, up 3.8% year-on-year.
Textile exports including masks jumped 34.8% year on year during the period.
As can be seen from YTD chart, the Shanghai Shenzhen CSI 300 Index, – based on the country's robust economic recovery – has appreciated YTD with 756 points or 18.13%.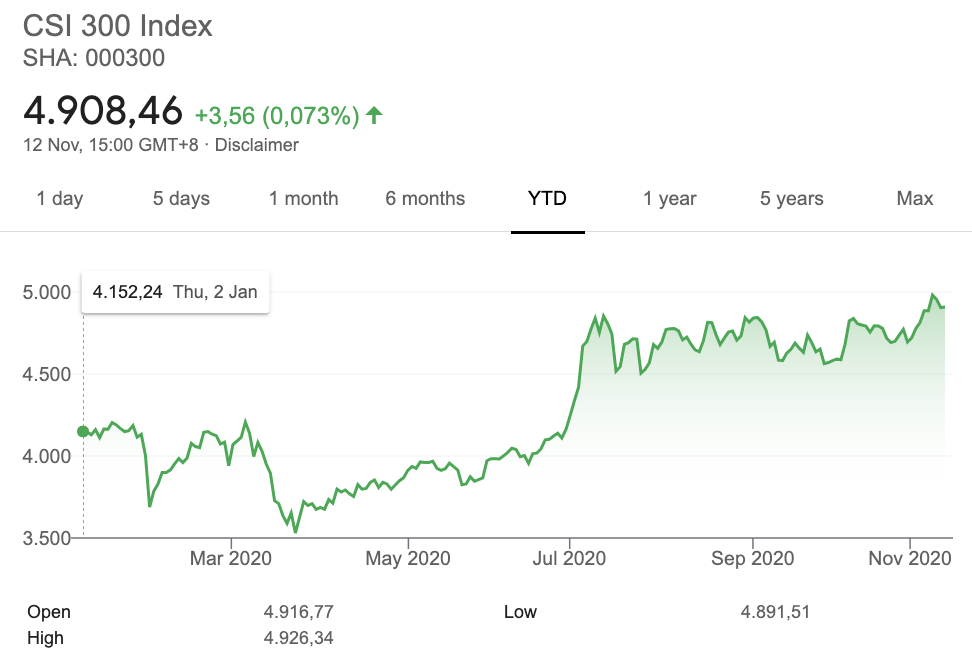 We expect the upturn in China's economy to continue in the last 6 weeks of this year, being supported by improved sentiment after the successful containment of Covid-19 and significant fiscal and monetary policy easing.
The CNY at 24-Month High against the USD:
On Monday, November 9, the Chinese currency, the Yuan (CNY), strengthened to hit a new 24-month high, against the USD as can be seen from below chart.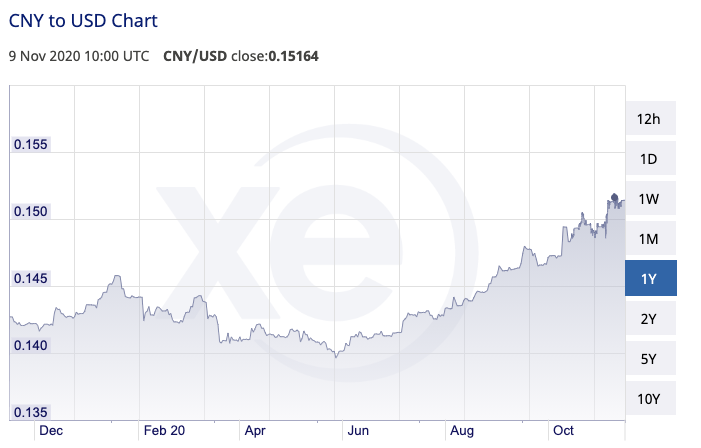 The yuan's rapid rise was in part due to the fact that Biden had been declared US President-elect, as he will likely continue negotiations with China to resolve the ongoing tariffs war, combined with the fact that, the world's second-largest economy's steady recovery would translate to a firmer currency.
Based on the points mentioned in this article, we maintain a BUY rating on Chinese securities, specially those in the financial- and technology sector.
Disclosure:
On the close of the markets on Friday, November 13, Chinese securities counted for 29.4% – for which they have the highest weight factor – of the PGM Components 50 Index. Personally, we own shares of Chinese Big caps securities in the financial- as well as the technology sector.
In this rapidly changing world and subsequent turbulence, PGM Capital is at your service as your Professional, Trustworthy and Dedicated, Financial Advisor and Asset Management.

Last but not least, before taking any investment decision, always take your investment horizon and risk tolerance into consideration. Keep in mind that share prices do not move in a straight line. Past Performance Is Not Indicative Of Future Results.
Yours sincerely,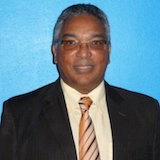 Eric Panneflek