Dear PGM Blog reader,
Global stocks tumbled on Friday March 23, erasing nearly all of their gains for the year, as investors reacted to President Donald Trump's move to slap tariffs on US$50 billion worth of China-made goods and a reciprocal move from the world's second largest economy to target imports from the United States.
INTRODUCTION:
On Thursday March 22, China responds to Trump tariffs with proposed list of 128 US products to target, that include pork, wine, fruit and steel.

The news sent the Dow Jones Industrial Average down 724 points or 2.93% on Thursday, and the rout continued in Asian markets.
The Nikkei 225 in Tokyo closed 4.51% lower, while shares in Hong Kong fell 2.45%, the CSI300 in Shanghai lost 2.86% and the Kospi in Seoul was down 3.37%.
In Australia, which exports more iron ore to China than any other country, the ASX200 benchmark index was off nearly 2%.
Friday March 23:
On Friday March 23, the rout continued and U.S. stocks ended sharply lower, with the main benchmarks recording their biggest weekly losses in more than two years as concerns over a potential trade war with China continued to worry investor.
The Dow Jones Industrial Average dropped 424.69 points, or 1.8%, to 23,533.20. The blue-chip index fell 5.7% over the week and is now down nearly 5% since the start of the year as can be seen from below chart.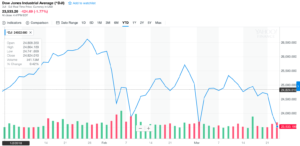 The Nasdaq Composite Index declined 174.01 points, or 2.4%, to 6,992.67 and posted a 6.5% loss over the week.
The S&P 500 index slumped 55.43 points, or 2.1%, to end at 2,588.26, the benchmark index lost 6% over the week and is down 3.2% year to date as can be seen from below chart.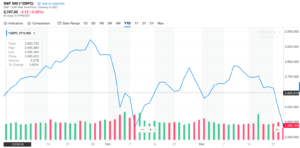 Weekly losses for all three benchmarks were the steepest since January 2016, when markets were routed on fears of global economic slowdown.
PGM CAPITAL ANALYSIS & COMMENTS:
Another bruising week for stocks has left global equity markets heading for their first quarterly loss since early 2016 after a spike in volatility, nervousness about rising inflation and the specter of a trade war spooked investors enjoying a multi-year bull run.
Wall Street's biggest fear is a trade war, a survey, released this week, found that for the first time since January 2017 the threat of a trade war, topped inflation as the biggest risk to markets.
The trade crackdown is a big deal because the United States and China are the world's two biggest economies. A major slowdown in trade could darken the otherwise bright economic outlook.
China is a major buyer of US crops, and Americans purchase tons of Chinese-made products and China is also America's biggest creditor, owning more Treasuries than any other nation.
Gold:
As can be seen from below chart, Gold futures rallied Friday, March 23 to their highest finish in five weeks, notching a weekly gain of almost 3%, as the threat of a looming trade war between the U.S. and China intensified.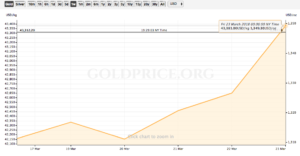 Silver also moved higher, with the May contract  +0.90% or 1.2%, to US$16.582 an ounce, for a weekly rise of 1.9%
The U.S. Dollar Index DXY, -0.37% fell on Friday March 23, to set for a weekly loss of 0.9%. Gold and the dollar typically move inversely, as moves in the U.S. unit can influence the attractiveness of commodities to holders of other currencies.
Possible Consequences of a Trade War:
Historically, both sides usually lose in trade wars. But, one side often loses more than the other. While China could be hurt by the Trump administration tariffs, U.S. consumers, companies and our allies could end up being damaged more.
China's foreign currency reserves now stand at more than US$3 trillion. In contrast, the U.S. has foreign exchange reserves that hover at around US$120 billion. Trump's tariffs would automatically trigger penalties against the U.S. in the World Trade Organization (WTO), and might even lead to the WTO's collapse, which would lead to higher tariffs against U.S. exports.
In fact, the importance of the U.S.-China relationship is already being challenged by other players. Apple's iPhone sales in China are running into competition from local Chinese manufacturers, and Samsung is more than happy to fill any void that the Chinese can't deal with. Likewise, the Chinese would happily shift their trillion dollars in future aircraft purchases to Airbus, the European firm that is already building a plant in China to finish assembly of large, twin-aisle jets. As for automobiles, most Chinese would just as soon drive a Mercedes, BMW, or Lexus as a Ford.
Leading economic experts hope that a trade war won't happen and that the American political system with checks and balances is relatively mature enough to avoid it.
Trump made a big play of slapping tariffs on Chinese imports, but believe neither side will risk escalating the current spat.
Until next week
Yours sincerely,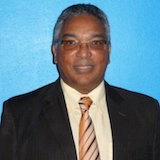 Eric Panneflek