Dear PGM Capital Blog readers,
We have just ended the month of January for which on the 3rd week of this New Year, on Wednesday, January 20th, Joe Biden took the oath of office as the 46th President of the United States.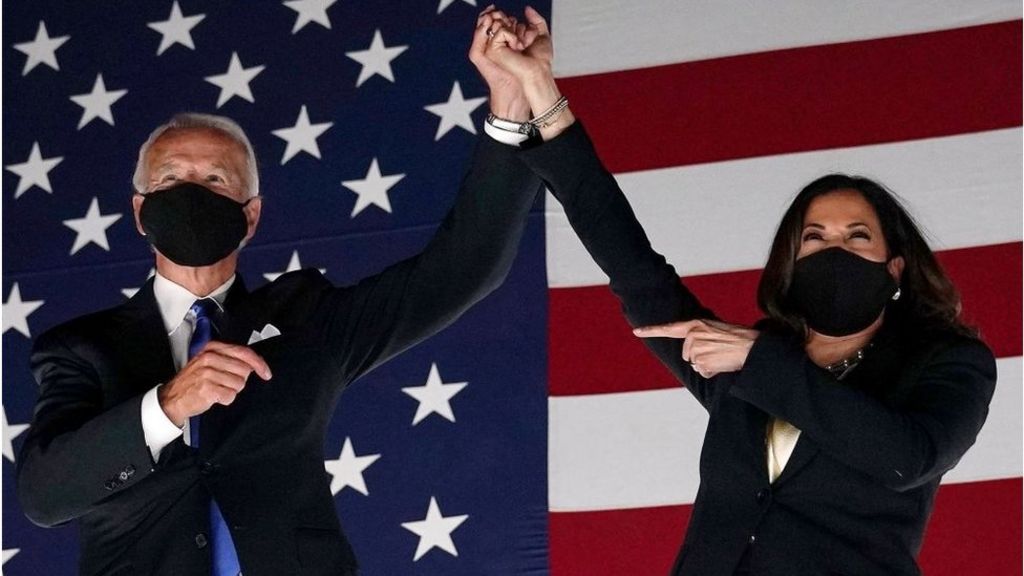 In this blog article we will try to provide an Outlook for the Global Capital Markets for the year 2021.
INTRODUCTION:
A widely followed market theory, popularized by The Stock Trader's Almanac, claims that as January goes, so goes the full year.
The USA:
President Joe Biden, inherits an US economy which is in serious problems as follows:
The latest jobs report shows that almost 11 million people remain unemployed , for which over a third of whom have been without a job for at least 27 weeks.
Tens of thousands of small businesses and dozens of major retail chains have closed or filed for bankruptcy.
Many states, cities and municipal agencies are reeling from the tremendous costs of spring lockdowns. And the economy has contracted 3.4% since the end of 2019.
China
On Monday January 18, China's reported that its economy expanded by in 2020, becoming the only major world economy to grow in what was a pandemic-ravaged year.
As can be seen from below chart, cross domestic product climbed 6.5% in the final quarter from a year earlier, pushing growth to 2.3% for the full year.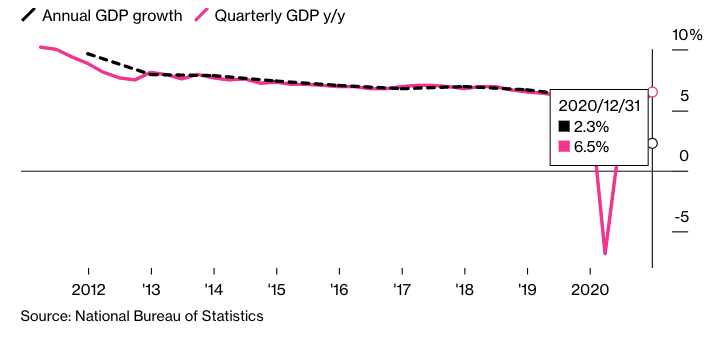 The V-shaped recovery from the biggest slump on record was engineered by gaining control over Covid-19 and deploying fiscal and monetary stimulus to boost investment.
Growth accelerated as the nation's factories revved up to meet demand for medical equipment and work-from-home devices in an export bonanza that saw the shipment of nearly 224 billion masks from March through December – almost 40 for every man, woman, and child on the planet outside of China.
That leaves the world's second-largest economy driving global growth and potentially passing U.S. GDP sooner than previously expected.
THE COVID-19 SITUATION:
Below chart shows the situation of the COVID-19 pandemic for the several WHO regions, on Saturday, February 6, 2020.

Above pictures also shows that the totally daily infection is decreasing globally, for which the top 10 countries ranked by their total number of COVID-19 cases – US, India, Brazil, Russia, UK, France, Spain, Italy, Turkey and Germany – are now showing a declining graph in varying degrees when it comes to daily new cases.
PGM CAPITAL COMMENTS & ANALYSIS:
USA Unemployment:
As can be seen from the below chart of the U.S. Bureau of Labor Statistics, the country's unemployment rate dropped to 6.3% in January 2021, as the number of unemployed persons decreased to 10.1 million.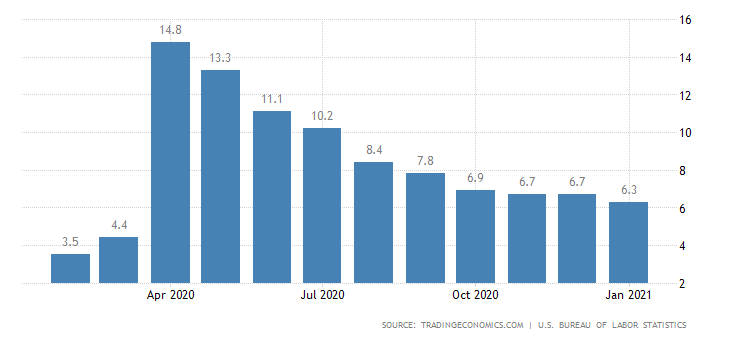 Although both measures were much lower than their April 2020 highs, they remained well above the pre-pandemic levels in February 2020 (3.5% and 5.7 million, respectively)
USA Trade Deficit:
On Friday, February 5, the USA Commerce Department reported that the country's trade deficit jumped 17.7% to US$ 678.7 billion last year, the highest since 2008.
Exports of goods and services tumbled 15.7% to their lowest level since 2010. Imports of goods and services dropped 9.5% to a four-year low.
China:
China's economy seems to be firing consistently on all cylinders. [It is] leaving other major economies in the dust.
China's rebound from Covid-19 has been powered by higher industrial production, which benefited from state support and added 7.1% in the fourth quarter, in comparison to the 5.8% in the previous quarter.
Retail sales, a measure of consumer appetite, has lagged behind the industrial sector, adding 4.6% in the fourth quarter. December's reading, which was also 4.6%, came in below 5% year-on-year growth in November and below expectations.
Economists at Credit Suisse upgraded their forecasts for China's 2021 growth to 7.1 per cent from 5.6 per cent, pointing to consumption as the main driver of growth.
Outlook 2021:
COVID-19 vaccination roll-outs have begun and should accelerate in the coming months.
In the circumstances, we are maintaining our core scenario, which involves growth recovering strongly from the second quarter and inflation rising in the second half of the year.
We are expecting the global economy to rebound strongly in 2021 as a result of vaccine rollouts and fiscal support.
As can be seen from below chart, the strength of the recovery is projected to vary significantly across countries, depending on access to medical interventions, effectiveness of policy support, exposure to cross-country spillovers, and structural characteristics entering the crisis.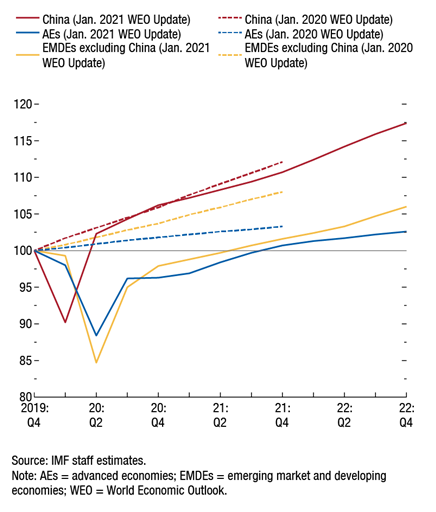 Strong multilateral cooperation is required to bring the pandemic under control everywhere. Such efforts include bolstering funding for the COVAX facility to accelerate access to vaccines for all countries, ensuring universal distribution of vaccines, and facilitating access to therapeutics at affordable prices for all.
Many countries, particularly low-income developing economies, entered the crisis with high debt that is set to rise further during the pandemic. The global community will need to continue working closely to ensure adequate access to international liquidity for these countries.
Where sovereign debt is unsustainable, eligible countries should work with creditors to restructure their debt under the Common Framework agreed by the G20.
Below table provided by the IMF, shows the project economic growth for some G20 Countries, for this year and 2022.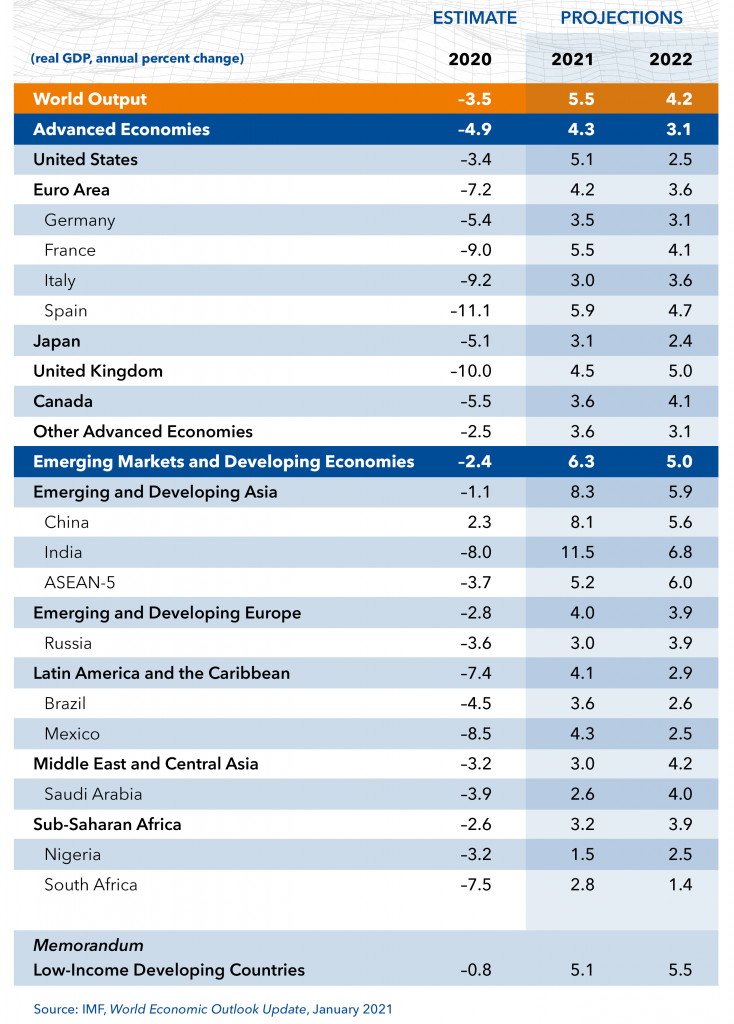 In the rapidly changing world and subsequent turbulence, PGM Capital is at your service as your Professional, Trustworthy and Dedicated, Financial Advisor and Asset Management.

Last but not least, before taking any investment decision, always take your investment horizon and risk tolerance into consideration. Keep in mind that share prices do not move in a straight line. Past Performance Is Not Indicative Of Future Results.
Yours sincerely,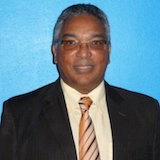 Eric Panneflek