Dear PGM Capital Blog reader,
In this weekend blog edition, we want to discuss some of the most important events that happened in the global capital markets, the world economy and the world of money, in the week of November 19, 2018, as follows:
The S&P-500 enters correction territory.
Oil Prices tumbles at 52-week low.
The Cryptocurrencies Bubble has burst.
THE S&P-500 IN CORRECTION TERRITORY:
What is a correction:
A correction is generally defined as a ten percent or greater decline in the price of a security from its most recent peak. Corrections can occur in individual stocks, indexes, commodities, currencies or any asset that is traded on an exchange.
As can be seen from the below chart, in the week of November 19, the USA benchmark the S&P-500, dropped with 95 points or 3.48 percent, and subsequently entered into correction territory.
Below chart shows that based on the decline of the S&P-500 in the week op November 19, it has fallen 10.17% from its peak of September 20, 2018, which means that the S&P-500, has entered in correction mode on Friday November 23, 2018
OIL PRICES TUMBLE TO 52-WEEK LOW:
Oil prices fell on Friday, November 23, with US$ 4.21 a barrel or 7,71% to USD US$ 50.42 a barrel as can be seen from below chart.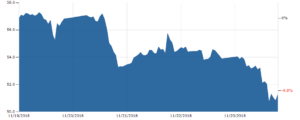 As can be seen from below chart, last week, decline of crude oil prices brought them to their lowest levels in more than a year, deepening a rapid seven-week sell-off that has plunged crude futures deep into a bear market.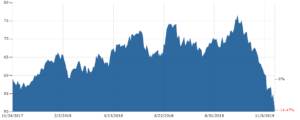 THE CRYPTOCURRENCIES BUBBLE HAS BURST:
The week of November 19, was the worst week for Cryptocurrencies, since the great cryptocurrency crash of 2018, with losses now at US$ 700 billion.
As can be seen from below chart, the Bloomberg Galaxy Crypto Index's declined on Friday, November 23, with 24.17 points or 7.75 percent a decrease of 82.56 percent since its top of January 5, this year.
Bitcoin the leading cryptocurrency slipped slipped last week with approx. US$ 1,300.00 or 23.21% as can be seen from below chart.
PGM CAPITAL's ANALYSIS & COMMENTS:
S&P-500 in correction territory:
Based on the language of the FED, that it will increase interest rates in the USA, for the fourth time this year during its coming december FOMC meeting, are the USD Libor rates at their 10 year high, as can be seen from below chart.
Rising interest rates in the USA, will have an upwards pressure on the US-Dollar as can be seen on below YTD chart of the US-Dollar Index, for which it has increased with approx. 6% YTD.
Based on this, according with the Big Mac Index, almost all word currencies are undervalued compared to the USA.
Due to this we believe that it might be advisable to use US-Dollar to buy assets in undervalued high quality currencies, like the Euro, GBP, CNY AUD, CAD etc.
Oil Price at one year low:
Oil is the blood of the world, and it is being used in almost all products we use today. On top of that almost 17% of all the oil consumed to day is being used, in our food, chain, for producing, packing, storing and transporting it.
We believe that the current decline in Oil prices has a political smell, and history has proven that these will always backfire in the future.
Based on this we believe, that below Warren Buffett quote might be applicable to Oil stocks and for sure for those of the Oil Supermajors.

Below Chart shows that the current Crude Oil closed on Friday, November 23, near their support level of July of 2017, of USD 49.00 a barrel, (see red line) which means that based on technical analysis, it can either bounce back up from this level, or if it breaks through our next support level will be the crude oil price of July 2016.
The Burst of the Cryptocurrencies Bubble:
While some crypto bulls have argued that Bitcoin and its peers would act as havens from turmoil in traditional financial markets, this year's losses have undercut those claims.
Gold, a traditional haven for investors, has climbed in the past two weeks as virtual currencies tumbled.
Disclosure:
We and our clients own securities of several non-USA Oil Supermajor companies
We/I don't own any cryptocurrency and have warned via several media shows, for which there are records about the risk of trading and investing in cryptocurrencies.
Last but not least, before taking any investment decision, always take your investment horizon and risk tolerance into consideration. Keep in mind that; share prices don't move in a straight line. Past Performance Is Not Indicative Of Future Results. All bubbles sooner or later will come to a bad end.
Until next week
Yours sincerely,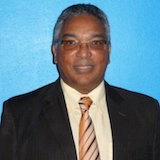 Eric Panneflek