Dear PGM Blog readers,
In this weekend blog article, we want to take the opportunity to discuss with you, a marijuana startup company called "The Green Organic Dutchman (TGOD)" has successfully completed an initial public offering and Commences Trading on the Toronto Stock Exchange under the symbol TGOD.TO, on Wednesday, May 2, 2018.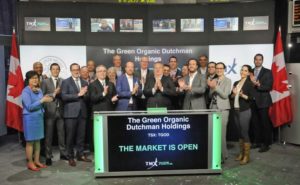 INTRODUCTION:
The Green Organic Dutchman Holdings Ltd. is a research & development company licensed under the Access to Cannabis for Medical Purposes Regulations ("ACMPR") to cultivate medical cannabis.
The Company carries out its principal activities producing cannabis from its facilities in Ancaster, Ontario, Canada, pursuant to the provisions of the ACMPR and the Controlled Drugs and Substances Act (Canada) and its regulations.
The Company grows high quality, organic cannabis with sustainable, all-natural principles.
TGOD's products are laboratory tested to ensure patients have access to a standardized, safe and consistent product. TGOD has a funded capacity of 116,000 kg and is building 970,000 sq. ft. of cultivation facilities in Ontario and Quebec.
Prior to the completion of the Offering, the Company developed a strategic partnership with Aurora Cannabis Inc. (ACB.TO) whereby Aurora made a CAD 55 million investment for an approximate 17.5% stake in TGOD.
THE TGOD IPO:
Green Organic Dutchman completed its IPO on the TSX and began trading on May 2nd under "TGOD". The shares were priced at CAD3.65 per share and closed at CAD3.67 on Friday, May 11, 2018 as can be seen from below chart.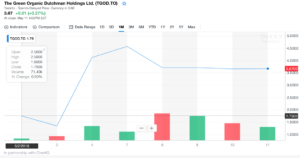 Major shareholder Aurora Cannabis, also participated in the offering by subscribing to 6.3 million shares at the offering price for a total investment of CAD 23 million, with a goal to maintain its ownership in the newly listed company at 17.5%.
Aurora also owns two tranches of warrants exercisable at CAD3.0 and CAD7.0 each and it has the option to increase its take to over 50% should it chooses to.
PGM CAPITAL ANALYSIS & COMMENTS:
TGOD expects to use most of the proceeds from its IPO to fund facility buildout and R&D spend.
At a market capitalization of over CAD 720 million, TGOD has become a major player in the cannabis market only behind a few larger rivals such as Canopy, Aurora, Alphria, and MedReleaf, as can be seen from below table.
| | | |
| --- | --- | --- |
| Name | Currency | Ticker |
| Canopy Growth Corp | CAD | WEED.TO |
| Aurora Cannabis Inc | CAD | ACB.TO |
| Aphria Inc | CAD | APH.TO |
| MedReleaf Corp | CAD | LEAF.TO |
| Green Organic Dutchman | CAD | TGOD.TO |
| Cronos Group Inc | CAD | CRON.V |
| CannTrust | CAD | TRST.TO |
| The Hydropothecary Corp | CAD | THCX.V |
| Cannabis Wheaton Income | CAD | CBW.V |
| Emerald Health Therapeutics Inc | CAD | EMH.V |
So far, we haven't been able to convince ourselves why TGOD deserves such a premium market capitalization. The company has no revenue and no production in place. Facilities are still being built and it feels like the company was just formed not too long ago as a subsidiary of Aurora.
M&A in the Cannabis sector:
On Thursday, May 3, Canadian marijuana producers MedReleaf Corp. and Aurora Cannabis Inc. said they've been in discussions amid speculation that the companies may combine.
MedReleaf said Thursday in a statement that it's had talks with companies including Aurora "regarding various alternatives." Aurora said the same in a separate statement.
The potential tie-up would create a new category of "cannabis super-merger" as it would mean consolidation among the five largest producers.
Companies in Canada's nascent marijuana sector are trying to gain market share before recreational sales become legal sometime this year.

Share prices for pot producers have soared amid investor optimism. Canadian sales could reach CAD 6 billion by 2021, according to a report from Canaccord Genuity Corp.
The country's top four producers have a combined market capitalization of almost CAD15 billion. MedReleaf, based in Markham, Ontario, has a market value of CAD 2.2 billion; Aurora is twice that size.
Edmonton-based Aurora said May 1 it had completed its CAD1 billion acquisition of CanniMed Therapeutics Inc., until now the biggest marijuana takeover.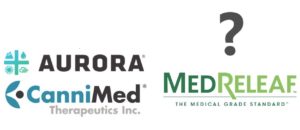 Based on the above we have a STRONG BUY rating on the stock of Cannabis Companies mentioned in this article.
Disclosure: I/we have positions in Canopy Growth as well as in Aurora Cannabis.
Last but not least, before making any investment decision, always take your investment horizon and risk tolerance into consideration and keep in mind that, growth sectors, – like the legalized cannabis industry –  can be very volatile and that most of the companies in the initial state of growth will not emerge from the "Question marks Kwadrant" to the Stars Kwadrant", accordance with the "Boston Consultancy Growth Matrix" shown here above.