Dear PGM Blog reader,
In this weekend blog article, we want to take the opportunity to discuss with you, why Investing in SINOPEC, can be lucrative for value investors.
INTRODUCTION:
China Petroleum & Chemical Corporation, or Sinopec or SNP, is a Chinese oil and gas company based in Beijing, China and is listed in Hong Kong stock exchange under the symbol (HKE: 0386) and also trades in Shanghai (SSE: 60028) and New York NYSE: SNP).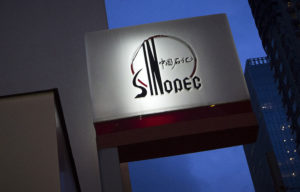 Sinopec Limited's parent, Sinopec Group, is one of the major state-owned petroleum energy and chemicals companies in China, headquartered in Chaoyang District, Beijing.
Sinopec's business includes oil and gas exploration, refining, and marketing; production and sales of petrochemicals, chemical fibers, chemical fertilizers, and other chemical products; storage and pipeline transportation of crude oil and natural gas; import, export and import/export agency business of crude oil, natural gas, refined oil products, petrochemicals, and other chemicals.
The company is currently world's biggest refiner by output.
FY-2017 EARNINGS REPORT:
On Sunday March 25, SINOPEC reported its fiscal year 2017 financial report with the following highlights: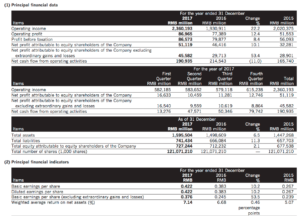 As can be seen from above highlights of the FY-2017 financial report of the company net profit increases nearly 10% to 51.119 billion yuan (8.1 billion US-Dollars) in 2017.
The board of director proposed a final dividend of RMB 0.40 per share, payable on June 14, to share holders on record on May 29, 2018.
Q1-2018 FINANCIAL REPORT:
On Thursday April 26, SINOPEC, announced its unaudited results for the three months ended March 31, 2018.
Highlights:
The Company's operating profit was 

RMB 29.218 billion

, up 14.9% year-on-year.
Net profit attributable to owners of the Company was 

RMB 19.306 billion

, increased by 12.3% year-on-year.
Basic earnings per share ("EPS") were 

RMB 0.159

, increased by 12.0% year-on-year.
PGM CAPITAL ANALYSIS & COMMENTS:
Sinopec plans to raise capex by more than 17% this year after posting its best annual earnings since 2013, as 2017 net income rose 10% Y/Y to 51.1B yuan ($8.1B) and revenues rose 22% to 2.36T yuan.
SNP says it is allocating 117B yuan in capital spending for 2018, up from an actual spend of 99.38B yuan last year, including a 55% jump in upstream spending to 48.5B yuan, as China's biggest refiner looks to take advantage of the recent rally in oil prices to $70/bbl.
The proposed final dividend of 0.4 Yuan per share, together with the previously paid interim dividend of 0.1 Yuan per share, gives a record high total dividend of 0.5 yuan per share for 2017, the most since its listing in 2000 on the Hong Kong Exchange.

Based on the closing price of last Friday, April 27, the shares of the company have a dividend yield of 7.79 percent.
Below chart shows the performance of the shares of the company in the last 2 years.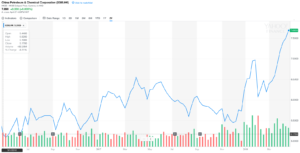 Based on the above we have a BUY rating on the shares of the company.
Last but not least, before taking any investment decision, always take your investment horizon and risk tolerance into consideration and keep in mind that; share prices don't move in a straight line and that Past Performance Is Not Indicative Of Future Results.
Yours sincerely,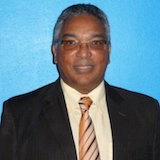 Eric Panneflek