Dear PGM Capital blog reader,
In this weekend's blog article, we want to take the opportunity to discuss with you why Investing in the Bank of China , can be lucrative for value investors.
INTRODUCTION:
Bank of China is one of the four biggest state-owned commercial banks in China. It was founded in 1912 by the Republican government to replace the Daqing Bank.
It is the oldest bank in mainland China still in existence.

As of 31 December 2009, it was the second largest lender in China overall, and the 5th largest bank in the world by market capitalization value.
As of end 2017, it was the fourth largest bank in the world in terms of assets, ranked after the other 3 Chinese banks.
The company has its headquarter in Beijing, China and by the end of 2018, the it had 311,000 employees.
The shares of the company are trading on the shanghai stock exchange (SSE) under the symbol 601988 and on the Hong Kong Exchange under the symbol 3988.
FUNDAMENTAL ANALYSIS:
In this chapter we want find answer to the question whether Bank of China's at its closing price of Friday July 19, is currently undervalued, providing a great entry point for value investor to buy it or add more to their portfolio.
What is Bank of China worth?
Based on its financial report of Q1-2019, the company's equity was 1,817,655 million CNY. According with the information provided by Simply Wall St, the total amount of outstanding shares are 294.34 billion.
A simple calculation shows us that the intrinsic value of the company's share are CNY 6. 17, which is equivalent to HKD 6,978 a share, for which the closing price of the company shares were HKD 3.29 on at the close of the market on Friday July 19, as can be seen from below 2-year chart.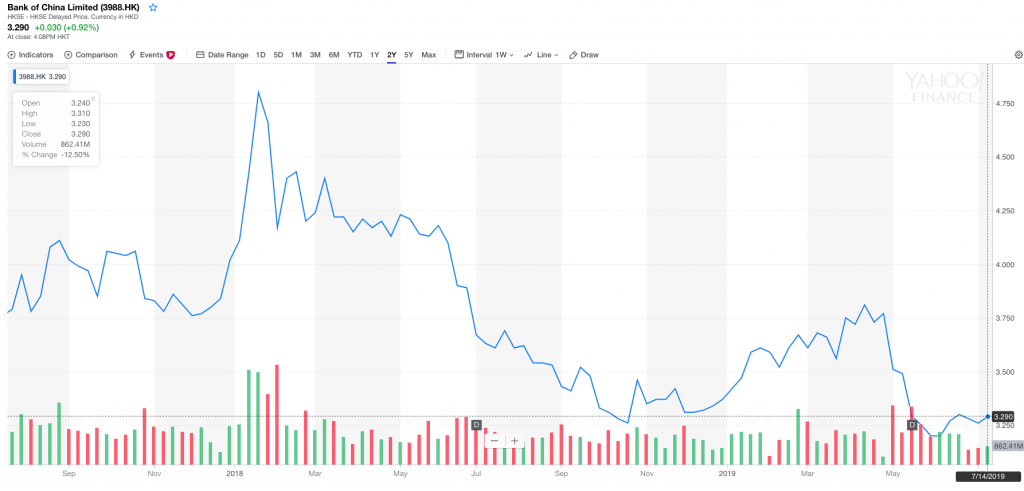 PGM CAPITAL's ANALYSIS & COMMENTS:
Can we expect growth from Bank of China?
Future outlook is an important aspect when you're looking at buying a stock, especially if you are an investor looking for growth in your portfolio. Buying a great company with a robust outlook at a cheap price is always a good investment, so let's also take a look at the company's future expectations.
Bank of China's earnings growth are expected to be in the teens in the upcoming years, indicating a solid future ahead. This should lead to robust cash flows, feeding into a higher share value.
As can be seen from above chart is, Bank of China's share price currently is hovering around at its support level of HKD 3.26 a share, this combined with an P/E ratio of 4.90, a dividend yield of 6.37 percent with a dividend payout ratio of 31 percent, we have a STRONG BUY rating on the shares of the company.

What this means for you:
Above fundamental analysis clearly shows that "The Bank of China" is currently undervalued, this combined with the fact that technically it is at its support level, may be a great time to Buy the stock or increase your holdings in the stock.
With an optimistic outlook on the horizon, it seems like this growth has not yet been fully factored into the share price yet.
But before you make any investment decisions, consider other factors such as the strength of its balance sheet, in order to make a well-informed investment decision.
Disclosure:
We own shares of The Bank of China in our personal portfolio.
Last but not least, before taking any investment decision, always take your investment horizon and risk tolerance into consideration. Keep in mind that share prices do not move in a straight line. Past Performance Is Not Indicative Of Future Results.
Yours sincerely,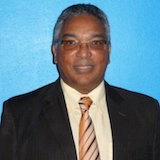 Eric Panneflek