Dear PGM Blog reader,
In this weekend blog article, we want to take the opportunity to discuss with you, why Investing in Mondelez International, can be lucrative for value investors.
INTRODUCTION:
Mondelēz International, Inc. is an American multinational confectionery, food, and beverage company based in Illinois which employs about 107,000 people around the world.
It consists of the global snack and food brands of the former Kraft Foods Inc. after the October 2012 spin-off of its North American grocery operations.
The Mondelez name, adopted in 2012, was suggested by Kraft Foods employees and is derived from the latin word mundus ("world") and delez, a fanciful modification of the word "delicious".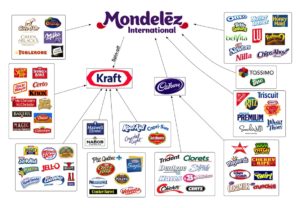 As can be seen from above figure, the company, headquartered in the Chicago, Illinois, manufactures chocolate, cookies, gum, confectionery, and powdered beverages. Mondelez International's portfolio includes several billion-dollar brands such as:
Cookies and Crackers:
Belvita, Chips Ahoy!, Nabisco, Oreo, Ritz, TUC, Triscuit, LU, Club Social, Barni, and Peek Freans.
Chocolate:
Milka, Terry's, Côte d'Or, Toblerone, Cadbury, Freia, Marabou, Fry's Lacta  Toblerone, Cadbury, Freia, Marabou, Fry's, Lacta
Gum and Cough Drops:
Trident, Dentyne, Chiclets, Halls, Stride, Stimorol
Powdered Beverages:
Coffee:
Jacobs, Tassimo, Carte Noire, Kenco
Cheese:
Philadelphia (Outside North-America)
Mondelez is the third largest food manufacturer in the world, behind Pepsico (2nd) and Nestle (1st). The company is also world second largest Coffee producer in the world, behind Nestle.
The company, which is listed on the NASDAQ exchange under the symbol MDLZ, has an annual revenue of about US$26 billion and operates in approximately 160 countries.
PGM CAPITAL ANALYSIS & COMMENTS:
As can be seen from below chart the shares of the company since its formation in October 2012, up to Friday, June 01, 2018 has appreciated from US$ 25.89 to US$ 39.56, an increase of approx. 52.8% in five and a half year.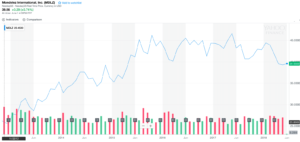 The company's dividend payout increased in the same period from US$ 0.13 per quarter per share. to US$ 0.22, per quarter per share, an increase of approx. 69.2% in five and a half year.
The company is mostly known for its cookies and chocolate brands representing 71% of its revenue, in 2016, as can be seen from below chart.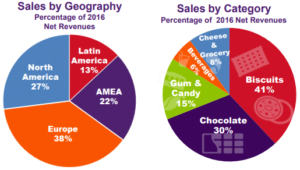 The company is driving 70% of what they call their "power brand" as follows: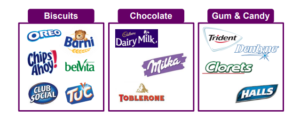 Dividend Growth:
It proves management's trust in the company's future and is also a good sign of a sound business model. Over time, a dividend payment cannot be increased if the company is unable to increase its earnings. Steady earnings can't be derived from anything else but increasing revenue.
As can be seen from below chart, over the past 5 years, MDLZ has increased its dividend payment, which makes it half-way to becoming a Dividend Achiever. The Dividend Achievers Index refers to all public companies that have successfully increased their dividend payments for at least ten consecutive years.
Business Model:
MDLZ's focus on strong brand while ignoring underperforming ones. We believe that a company should always bet on its strengths to become the best in its field and this is exactly what MDLZ is doing.
The company currently manages eight US$1+ billion brands.
Valuation:
The shares of the company, have a forward P/E ratio of 14.82 and a strong 8% dividend growth rate for the first 6 years of its existence.
We see Mondelez as a healthy business with interesting growth vectors and have initiated our advise on the shares of the company with a BUY rating, which as a "hold steady" stock in your portfolio will reward its investors with an increasing dividend, this on top the appreciation of the company's stock price.
Last but not least, before taking any investment decision, always take your investment horizon and risk tolerance into consideration and keep in mind that; share prices don't move in a straight line and that Past Performance Is Not Indicative Of Future Results.
Yours sincerely,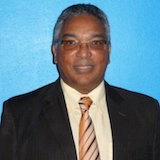 Eric Panneflek