Dear PGM Capital Blog readers,
In this weekend's blog article, we want to take the opportunity to discuss with you, why Investing in Tencent, can be lucrative for growth investors.
INTRODUCTION:
Tencent Holdings Limited (00700.HK), is an investment holding company, that provides Internet value-added services (VAS) and online advertising services in Mainland China, Hong Kong, North America, Europe, other Asian countries, and internationally.
The company operates through VAS, Online Advertising, and other segments. It offers online games and social networks across various online platforms; online advertising services, such as media, social, and display-based advertising services; and FinTech, cloud, television series and film production, and other services for individual and corporate users.

Tencent also develops software; develops and operates online games; and provides information technology, information system integration, asset management, online literature, and online music entertainment services.
The company is the world's largest video game company, one of the world's most valuable technology companies, one of the world's largest social media companies, and one of the world's largest venture capital firms and investment corporations.
TENCENT VIDEO CONFERENCE CALL APPLICATION:
Tencent has released an international version of its cloud-based video conferencing tool across more than 100 markets, including Singapore, India, Japan, Thailand, and Malaysia. Called Tencent Meeting, the online conferencing application can host up to 300 attendees simultaneously and is available for free on the Google Play and Apple app stores.
In a statement on Saturday, March 21, Tencent said:
"The software is called VooV Meeting on the app stores"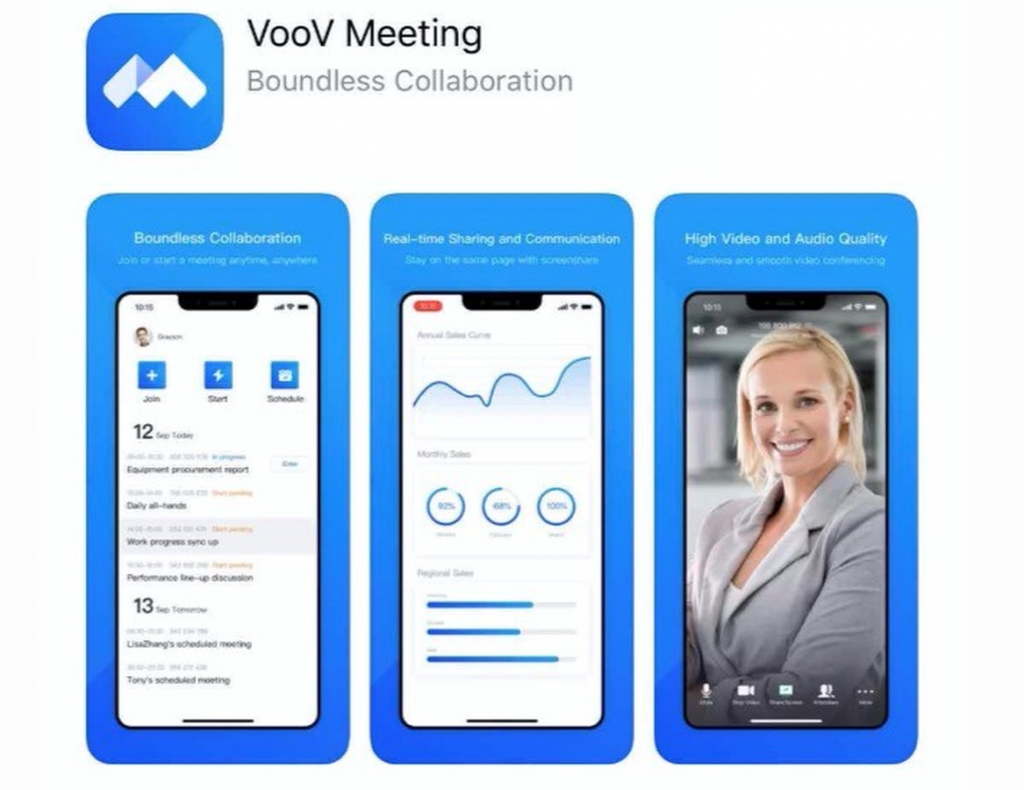 UNITED NATIONS PARTNER WITH TENCENT:
On Monday March 30, the United Nations (UN) has announced its plan to use tech from China's Tencent to host online conversations, with the COVID-19 outbreak preventing these from taking place in person.
Using VooV Meeting, – the international version of Tencent Meeting -, WeChat Work, and Tencent Artificial Intelligence Simultaneous Interpretation, the UN said it would host "thousands of online conversations" for its 75th anniversary.
The United Nations is calling on people all around the world to engage in a global dialogue and empowering partners to organize and participate in online discussions of any scale with the help of Tencent's VooV Meeting platform, WeChat Work, as well as Tencent AI SI.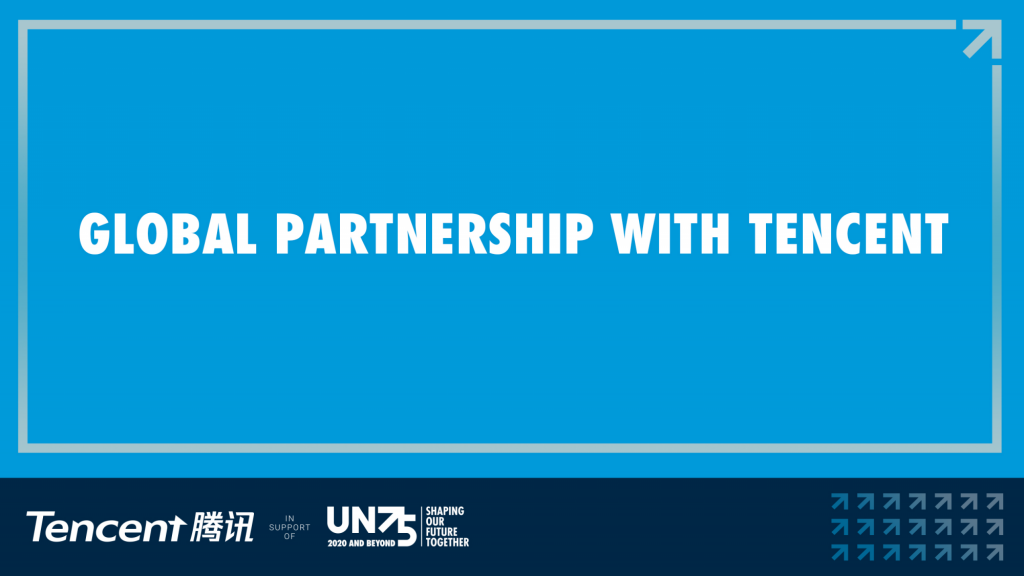 Just last week, Tencent's ubiquitous social app WeChat also teamed up with the UN's World Health Organization for a hackathon to speed up development of software to fight the coronavirus pandemic.
PGM CAPITAL ANALYSIS & COMMENTS:
TENCENT & THE COVID-19 PANDEMIC:
As can be seen from below chart, the shares of Tencent Holding have not participated in the market route of Q1-2020, and have out performed widely the DOW-Jones and all other USA Index.
Below 5-year chart of Tencent – Asia's biggest Company – by market cap shows even more clearly the magnitude and leadership of this Chinese Big Cap Technology Company.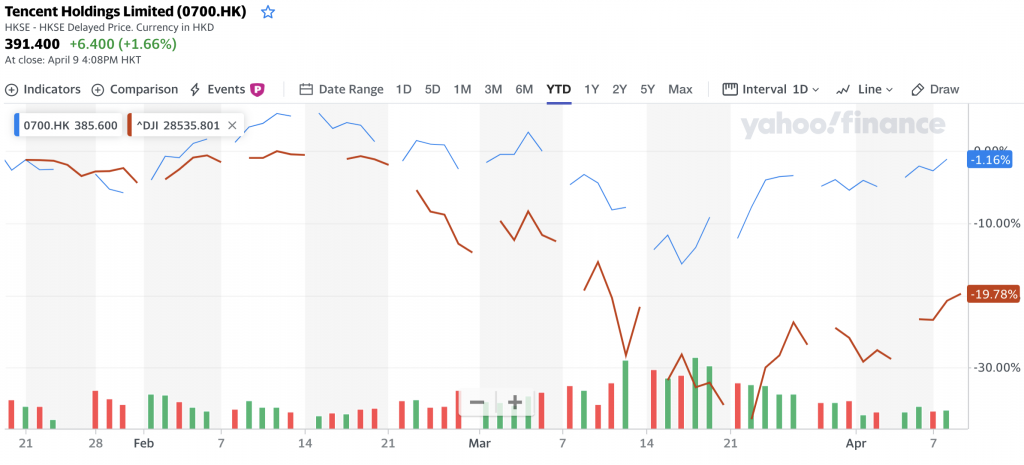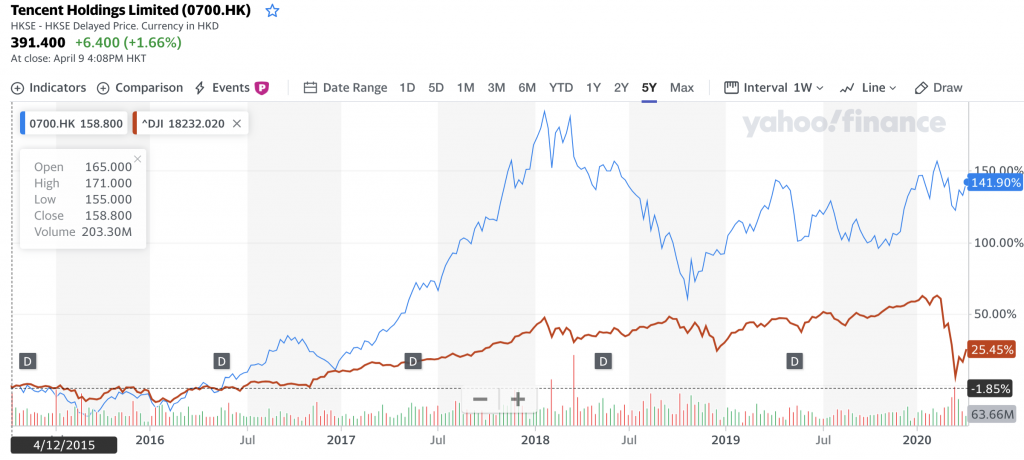 TECENT FY-2019 RESULT AND INCREASE OF ITS DIVIDEND:
On Wednesday, March 18, Tencent reported a net income of 21.6 billion yuan (US$3 billion) in the quarter ended December, compared with 14.2 billion yuan in the same period the previous year – missing a Bloomberg consensus estimate of 22.8 billion yuan.
Revenue reached 105.8 billion yuan, up 25 per cent year-on-year.
The company declared a dividend of HK 1.20, – an increase 20 percent compared with its dividend of FY 2018-, payable on May 29, 2019, for which the ex-dividend is set on May 15, 2020.
A silent detail, is that Tencent has a Cayman Island ISIN code, which means that the dividend has no withholding tax.
Has the COVID-19 pandemic accelerated the Big Reset?
The fact that  United Nations HQ is located in New York, USA means that for the United Nations to choose Tencent VOOV meeting in combination with the company's Wechat above other online conference and meeting applications might indicates, how much the world is changing, and that Tencent's VOOV meeting applications is set to exceed the current standards set for online conferences and meetings.

This also might justify the fact, why Tencent shares have not participated in the market rout of Q1-2020.
Disclosure:
We own shares of Tencent Holding in our personal portfolio.
PGM Capital is at your service as your, Professional, Trustworthy and Dedicated, Financial Advisor and Asset Management.

Last but not least, before taking any investment decision, always take your investment horizon and risk tolerance into consideration. Keep in mind that share prices do not move in a straight line. Past Performance Is Not Indicative Of Future Results.
Yours sincerely,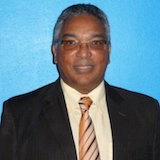 Eric Panneflek