Dear PGM Blog reader,
In this weekend blog article, we want to take the opportunity to discuss with you, the Q3-2018 financial results of Baidu and Alibaba, reported respectively on Tuesday, October 30 and Friday November 2, 2018.
ALIBABA Q3-2018 FINANCIAL RESULTS:
Alibaba, (NASDAQ: BABA) the Chinese equivalent of Amazon, reported stronger-than-expected Q3-2018 earnings of US$ 1.11 per share, just ahead of the US$ 1.07 consensus and up 12% from the same period last year.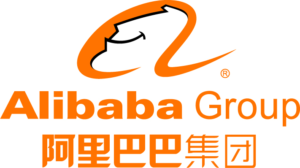 Highlights:
Revenue was RMB85,148 million (US$12,398 million), an increase of 54% year-over-year.
Revenue from core commerce increased 56% year-over-year to RMB72,475 million (US$10,553 million).
Revenue from cloud computing increased 90% year-over-year to RMB5,667 million (US$825 million).
Group sales, while rising an impressive 54% from the same period last year to US$12.4 billion.
Alibaba CEO Daniel Zhang said in a press release;
Alibaba had another strong quarter of rapid growth. In particular, annual active consumers increased by 25 million to reach 601 million in the 12 months ended September 30, 2018.

We generated synergies across our businesses, demonstrating the power of the Alibaba digital economy.
The group also said mobile monthly active users on its retail platform rose by 32 million from the previous quarter to 666 million, while annual active customers rose by 25% to just over 600 million.
BAIDU Q2-2018 FINANCIAL RESULTS:
China's leading search engine provider Baidu (NASDAQ: BIDU) posted its results, for the quarter ending September 30, after Tuesday's October 30, market close.
Revenue rose 27% to hit the U.S. equivalent of US$4.11 billion, roughly the midpoint of the 23% to 30% growth that it was targeting three months ago.
Baidu's bread-and-butter online advertising business continues to lead the way. Online marketing revenue rose 18% to US$3.27 billion, accounting for nearly 80% of the revenue mix.
A 7% uptick in active online marketing customers and a 12% surge in spending per customer helped deliver another period of double-digit percentage growth.
If a segment accounting for nearly four-fifths of Baidu's total revenue is growing at an 18% clip, that naturally means that the other 20% is growing even faster. Other revenues at Baidu soared 80% during the period, led primarily by the booming popularity of premium iQiyi (NASDAQ: IQ) memberships and its other growth initiatives.
PGM CAPITAL ANALYSIS & COMMENTS:
Alibaba:
Alibaba Group Holding Ltd, China's largest e-commerce company, adopted a cautious tone on the outlook for the global economy even as signs emerged of a possible end to a U.S. and Chinese trade war.
Alibaba co-founder Jack Ma has warned that conflict between the world's two largest economies could last 20 years, raising concerns about the toll that tensions would have on Alibaba and its core customers. Yet the Hangzhou-based company managed to record 54 percent revenue growth by adjusting its e-commerce formula and expanding into newer businesses like cloud computing.
Below chart shows Alibaba quarter over quarter growth since Q4-2016.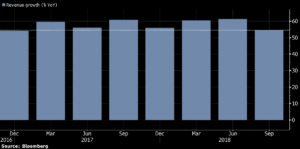 One look at Alibaba's earnings report shows that its core commerce segment is performing extremely well. It is showing good growth momentum as well as contributing the biggest share in EBITA.
On its earnings call, Alibaba said that 75% of the increase in its annual active consumer base in the quarter came from less-developed areas of China, as it capitalizes on the growing consumption of China's middle class.
Baidu:
The company's revenue in the third quarter of 28.2 billion yuan beat estimates by 2.4 percent.
Baidu's net income rose 56 percent in July-September, also slightly above estimates, though operating margin fell to 16 percent from 21 percent.
Excluding gains from divesting its financial services business, Baidu posted adjusted earnings per share of 19.01 yuan versus the 16.70 yuan analyst estimate.

The firm expects October-December revenue of 25.48 billion to 26.72 billion yuan, versus 23.6 billion yuan in the same period a year prior.
Disclosure:
I/We are long Alibaba and Baidu and have add more shares of both to our personal portfolio last week.
Last but not least, before taking any investment decision, always take your investment horizon and risk tolerance into consideration and keep in mind that; share prices don't move in a straight line, that Past Performance Is Not Indicative Of Future Results and that technology stocks and stocks of emerging markets, experience a higher volatility than the ones of develop market big-caps.
Yours sincerely,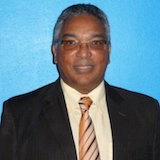 Eric Panneflek