Dear PGM Capital Blog reader,
In this weekend blog edition, we want to discuss some of the most important events that happened in the global capital markets, the world economy and the world of money, in the week of November 5, 2018, as follows:
Ahold Delhaize reported blockbuster Q3-2018 financial results.
USA FED signals posible rate hike in December.
AHOLD DELHAIZE REPORTED Q3-2018 FINANCIAL RESULTS:
On Wednesday, November 7, Ahold Delhaize (AD.AS), the Dutch-Belgian operator of grocery stores in Europe and the United States, one of the world's largest food retail groups and a leader in both supermarkets and e-commerce, reported a strong third quarter with improved sales across the board and strong growth of underlying operating income.
Ahold Delhaize CEO: A number of things working well for us from CNBC.
Highlights Q3-2018 Financial Results:
Net sales of €15.8 billion, up 3.6% at constant exchange rates
US comparable sales up 3.0% (excluding hurricane up 2.5%) with positive volume growth
Net consumer online sales up 27.6% at constant exchange rates
Underlying operating margin of 4.1%, up 0.2% points, supported by synergies
Net income up 26.7% to €459 million, up 26.0% at constant exchange rates
Strong free cash flow of €538 million, up €112 million, full year guidance raised to at least €2.0 billion
THE USA FED SIGNALS DECEMBER 2018 RATE HIKE:
On Thursday, November 8, the USA, Federal Reserve held its key short-term rate steady, but maintained its upbeat view of the economy, setting the stage for a fourth rate increase in 2018 at its December 18-19 meeting.

The U.S. interest rate is currently in a range of 2 to 2.25 percent, but the Fed has signaled it wants to gradually raise rates in the coming months to 3 percent or slightly higher.
A rate hike is widely expected at the Fed's next meeting on December 19, and the Fed has indicated it is likely to do three more increases next year.
PGM CAPITAL's ANALYSIS & COMMENTS:
Ahold Delhaize:
At the presentation of the Q3-2018, results, Frans Muller, CEO of Ahold Delhaize, said: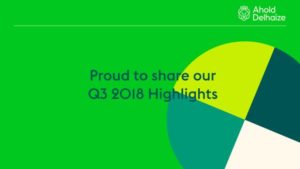 "We are pleased with these results, demonstrating the strength of our great local brands, which is underpinned by their leading market positions."

"We continued to renew our store network and invest in our digital capabilities and new technologies to make shopping easier for customers, while offering them even more options to live healthier lives"

"In the United States, comparable sales grew significantly by 3.0% compared to the previous quarter."

"In the Netherlands, performance was very strong with comparable sales up 5.9%. Net consumer online sales grew 33.2% as bol.com continued its rapid growth as the leading e-commerce platform in the Benelux."

"In Belgium, Delhaize grew sales and margins as the implementation of its new strategy and improvement plans continued to make steady progress."

"In Central and Southeastern Europe, we are particularly pleased by the performance of our Czech business."
Based on the Q3-2018 financial results, the shares of the Company surged more than 7% last week, as can be seen from below chart.
Based the company's fundamentals, strong balance sheet, we maintain our STRONG BUY Rating on the shares of Ahold Delhaize.
Below chart shows the performance of the shares of the company have appreciated YTD, with approx. 23.5%, while most global markets are deep in the red.
FED Meeting:
Notably absent from the statement of Thursday, November 8, was any mention of the housing market slowdown or recent stock market jitters.
People in the USA currently are buying fewer new homes as mortgage rates rise and analyst are worrying  that the weakness in the housing market could spill to other sectors of the USA Economy.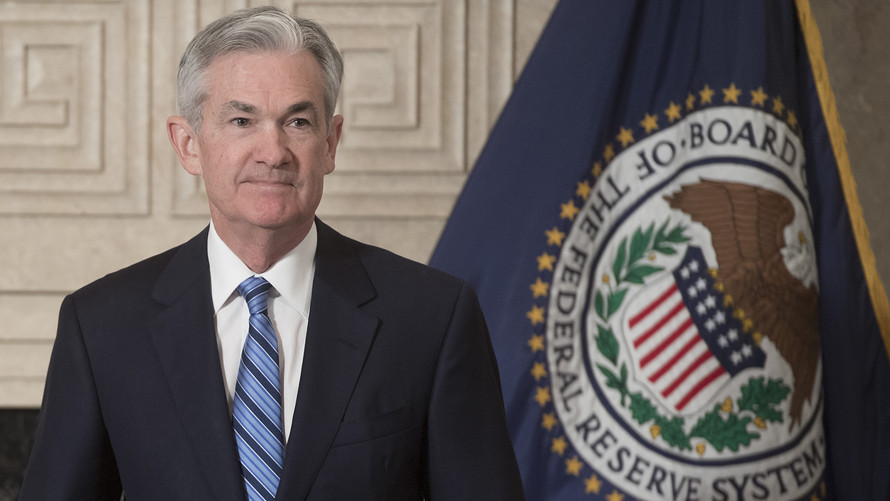 President Trump has repeatedly berated the Fed for hiking rates too quickly, which he fears will harm economic growth, but the Fed remains committed to getting interest rates back to more normal levels given how well the economy is doing now.
We believe that rising interest rates, will have a negative effect on the bond and commodity market, will balloon, interest payments on loans done in the USD and at the end might lead to a new global recession.
Disclosure:
I/We are long Ahold Delhaize shares.
Last but not least, before taking any investment decision, always take your investment horizon and risk tolerance into consideration and keep in mind that; share prices don't move in a straight line, that Past Performance Is Not Indicative Of Future Results and that technology stocks and stocks of emerging markets, experience a higher volatility than the ones of develop market big-caps.
Yours sincerely,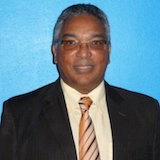 Eric Panneflek