Dear PGM Blog reader,
In this weekend blog article, we want to take the opportunity to discuss with you why Investing in China Shenhau Energy can be lucrative for value investors.
INTRODUCTION:
China Shenhua Energy Company Limited known as Shenhua or China Shenhua or Shenhua Energy (1088.HK) is the largest coal mining enterprise in the world.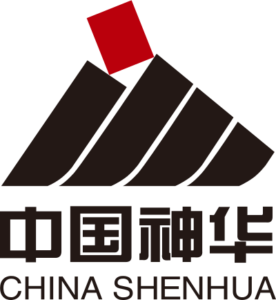 It is a subsidiary of Shenhua Group, which is engaged in the production and sale of coal and the generation and sale of electric power in the People's Republic of China. It operates coal mines as well as an integrated railway network and a seaport that are primarily used to transport its coal. It also operates power plants in the People's Republic of China which are engaged in the generation and sales of coal-based power to provincial and regional electric companies.
H1-2017 FINANCIAL RESULTS:
On Friday August 25, the company, delivered its strongest interim results in four years on the back of soaring coal prices.
Highlights:
Under IFRS accounting standards, the group's half-year net income rose to 26.3 billion yuan versus 10.8 billion yuan a year ago.
The company's total sales rose to 120.5 billion yuan from only 78.7 billion yuan in the first six months of 2016.
Domestic coal sales prices of Shenhua rose to 425 yuan a tonne in the first half, up from 271 yuan a tonne in 2016.
These blockbuster results in H1-2017, we mainly due to the surge of thermal coal prices in the second quarter, extending the run-up to record highs, as people cranked up air conditioners due to a prolonged heatwave, hydro-power cuts in southern China and a crackdown on mine safety.
MERGER WITH CHINA GUODIAN CORPORATION:
On Monday August 28, The government of People's Republic of China approved the merger of Shenhua Group Corp., the country's top coal miner, with China Guodian Corp. to create the world's largest power company.

Shenhua Group, which will change its name to China Energy Investment Corporation, which will absorb Guodian Group and become the parent of the reorganized entity, the listed units of both companies said in separate Hong Kong filings.
The listed companies are also forming a coal-fired power joint-venture, which is subject to shareholder and regulatory approvals.
PGM CAPITAL ANALYSIS & COMMENTS:
As can be seen from below chart Shares of Shenhua Energy, have rallied approx. 40 percent Year-to-Date and we expect more upside after the Chinese coal miner announced a 143% jump in its first half net profit compared to a year ago.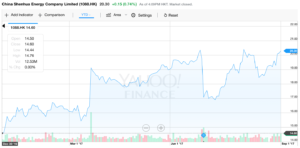 On March 17 of this year, the company announced a generous special dividend of CNY2.51 a share for fiscal 2016, – this above the normal year end dividend of CNY 0.46 -, payable on August 23, 2017 after the company grew its net profit for the first time in four years.
Based on the announcement of the special dividend, the share of Shenhua made their largest intraday jump on March 17, since 2008, as can be seen in above chart.
Leverage of the Merger:
According with data from Bloomberg New Energy Finance (BNEF), as reported by the company's report of June this year, Shenhua had 1.014 trillion yuan in assets and its listed unit produced about 290 million tons of coal last year and 82 gigawatts of generating capacity.
Guodian, according to a statement from the company posted by state-backed industry group China Electricity Council, had total assets of 803 billion yuan and had 145 gigawatts generating capacity.
The merged entity will account for 13 percent of both China's power-generating and coal-mining capacity, for which the new company's totals at 221 gigawatts of generating capacity and about 500 million tons coal respectively a year.
The combined company will also be able to hedge against market risks between coal and power, in the sense that they can sell their nuclear technology or their coal-power technology to emerging markets in Asia.
Based on the company's business model, strong balance sheet, forward P/E ratio of 11 and a dividend yield of 16.26 percent, we have a BUY RATING on the shares of the company.
Last but not least, before taking any investment decision, always take your investment horizon and risk tolerance into consideration and keep in mind that commodity prices as well as the securities of their producers, can be very volatile and that sharp corrections might happen in the short term.
Yours sincerely,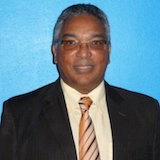 Eric Panneflek