Dear PGM Blog reader,
In this weekend blog article, we want to take the opportunity to discuss with you, why Investing in Danone (BN.PA), can be lucrative for value investors.
INTRODUCTION:
Danone is a French multinational food-products corporation based in Paris and founded in Barcelona, Spain.
The company's, head office has been located in the 9th arrondissement of Paris since 2002 and is listed on Euronext Paris where it is a component of the CAC 40 stock market index.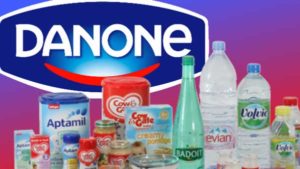 Danone is present in over 130 markets and generated sales of €21.9 billion in 2016, with more than half in emerging countries.
In 2015, fresh dairy products represented 50% of the group's total sales, early life nutrition 22%, water 21% and medical nutrition 7%.
HISTORY:
Danone was founded by Isaac Carasso, who began producing yogurt in Barcelona, Spain in 1919.
The brand was named Danone, which translates to "little Daniel", after his son Daniel Carasso.
In 1929, Isaac Carasso moved the company from Spain to France, opening a plant in Paris. In 1942, Daniel Carasso moved the company to New York. In the United States, Daniel Carasso partnered with the Swiss-born Spaniard Juan Metzger and changed the brand name to Dannon to sound more American.
In 1951, Daniel Carasso returned to Paris to manage the family's businesses in France and Spain, and the American business was sold to Beatrice Foods in 1959; it was repurchased by Danone in 1981.
In 1967, Danone merged with Gervais, the leading fresh cheese producer in France, and became Gervais Danone.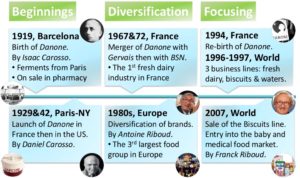 In 1973, the company merged with bottle maker BSN. The company changed its name to Groupe Danone in 1983.
In 1994, BSN changed its name to Groupe Danone, adopting the name of the group's best-known international brand.
In 1999 and 2003, the group sold 56% and 44%, respectively, of its glass-containers business.
In July 2007, a €12.3 billion cash offer by Danone for the Dutch baby food and clinical nutrition company Numico was agreed to by both boards, creating the world's second-largest manufacturer of baby food.
Danone acquired the Unimilk group's companies in Russia in 2010 and the Wockhardt group's nutrition activities in India in 2012. In mid-February 2013 Danone announced their intention to cut 900 jobs or about 3.3 percent of their 27,000 person European workforce.
Since 2013, Danone has accelerated its development on the African continent, notably with the acquisition of a controlling interest in Centrale Danone in Morocco and equity interests in Fan Milk in West Africa and Brookside in Kenya.
In June of 2017, the company revealed its new logo, which can be seen here below.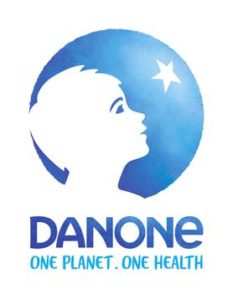 PGM CAPITAL ANALYSIS & COMMENTS:
Danone operates as a food company worldwide, for which below chart shows the global presence of the company.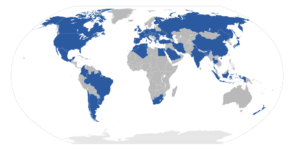 Its Fresh Dairy Products division produces and markets yogurts, fermented fresh dairy products, and specialized dairy products under the Oikos, Danio, Activia, Danonino, Fruchtswerge, Danoninho, Danimals, Serenito, Tëma, Actimel, Danacol, Densia, Danette, Fantasia, Danissimo, YoCrunch, Vitalinea, Light & Fit, Taillefine, and Ser brands.
The company's Waters division offers packaged natural, flavored, and vitamin-enriched water under the evian, Volvic, Badoit, Aqua, Mizone, Bonafont, Villavi.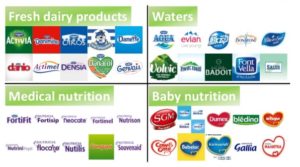 cencio, Villa del Sur, Fontvella, Lanjarón, and Zywiec Zdroj brands.
The company's Life Nutrition division produces and distributes foods for babies and young children to complement breast-feeding under the Aptamil, Nutrilon, Bebelac, Cow & Gate, Bledina, Malyutka, and Dumex brands.
The company's Medical Nutrition division produces and distributes specialized food products for people afflicted with certain illnesses or frail elderly people. Its products include liquid oral nutritional supplements; hypoallergenic products for babies and children with dairy or multiple food protein allergies; and tube feeding products for the dietary treatment of babies and children who are not capable of feeding themselves normally or who suffer from malnutrition.
Below figure shows the revenue per division of Danone in fiscal year 2014.
Company's Growth:
Below chart shows the 30-year chart of the performance of the shares of Danone in which we can see that the shares of the company during the last 20 years has increased with approx. 550 percent, while its dividend payout has increased from €0.10 a share to €1.70 a share, an increase of 1,600.00 percent.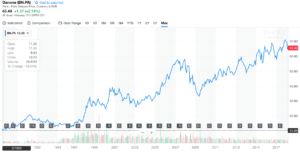 Below chart shows the increase of the companies dividend during the past 10 years.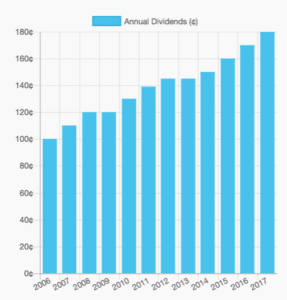 Below chart shows the increase of the value of the brands of the company since 2001.

Based on the above, we have initiated our coverage on the shares of the company with a BUY rating.
Last but not least, before taking any investment decision, always take your investment horizon and risk tolerance into consideration and keep in mind that; share prices don't move in a straight line and that Past Performance Is Not Indicative Of Future Results.
Yours sincerely,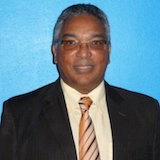 Eric Panneflek