Dear PGM Blog reader,
In this weekend blog article, we want to take the opportunity to discuss with you, why Investing in Unilever (UNA.AS or ULVR.L), can be lucrative for value investors.
INTRODUCTION:
Unilever is a British-Dutch transnational consumer goods company co-headquartered in London, United Kingdom and Rotterdam, Netherlands.
The company was founded in 1930 by the merger of the Dutch margarine producer Margarine Unie and the British soap maker Lever Brothers.
Unilever is one of the oldest multinational companies in the world, its products are available in around 190 countries, it is the world's largest consumer goods company measured by 2016 revenue, and it is also the world's largest producer of food spreads, such as margarine.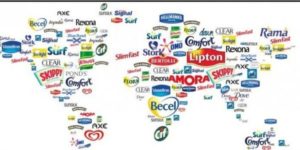 The company's Personal Care segment offers skin care and hair care products, deodorants, and oral care products.
Its Foods segment provides soups, bouillons, sauces, snacks, mayonnaise, salad dressings, margarines, and spreads.
The company's Home Care segment offers home care products, such as powders, liquids, capsules, and soap bars, as well as a range of cleaning products.
Its Refreshment segment provides ice creams and tea-based beverages.
The company which is also Europe's seventh most valuable company, owns over 400 brands, with a turnover in 2016 of over 50 billion euros, and thirteen brands with sales of over one billion euros.
Unilever plc has a primary listing on the London Stock Exchange – under the symbol ULVR.L -and is a constituent of the FTSE 100 Index. Unilever N.V. has also a primary listing on Euronext Amsterdam – under the symbol UNA.AS – and is a constituent of the AEX index.
The company is also a lux of the Euro Stoxx 50 stock market index and trade on the NYSE as an ADR under the symbol UN.
FINANCIAL RESULTS FY 2017:
On Thursday, February 1st 2017, Unilever reported its Q4-2017 as well as it full-year 2017 financial results with the highlights as follows: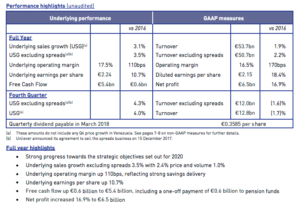 The quarterly dividend calendar for the remainder of 2018 will be as follows:

PGM CAPITAL ANALYSIS & COMMENTS:
We believe that a properly diversified, value investment portfolio must contain at least 30 percent of its holding in shares of consumer goods conglomerates.
Unilever put in a solid Q4-2017 financial results, particularly in comparison to its peers among major producers of consumer staples, which is a prove that the shares of the company should be a core holding in a value investment portfolio.
Below chart shows the performance of the Unilever share-price, its dividend payout and dividend yield over the past 30 years.
Unilever also offers its investors to receive its quarterly dividend in new shares of the company in an attractive Dividend Reinvestment Plan of the company.
It is also worth mentioning that based on the new tax plan of the Dutch Government, starting January 2019, the witholding tax on dividend will become zero.
Based on the company's fundamentals, business model and stock performance as shown in above chart, we have a BUY rating on the shares of the company.
Brexit or Nexit:
In April of last year the company said it will make a decision on its Anglo-Dutch corporate structure, and moving towards unifying its two classes of share into a single class.

Unification with a single share class, would be in the best interests of Unilever and its shareholders as a whole. As a geographically diversified business with a very small corporate centre, the board envisage the process will lead to the slimming down to a single "lean, agile".
Anglo-Dutch consumer-goods giant Unilever wants to consolidate its headquarters in the U.K. or the Netherlands, but Brexit is making it harder to choose.
Last but not least, before taking any investment decision, always take your investment horizon and risk tolerance into consideration and keep in mind that; share prices don't move in a straight line and that Past Performance Is Not Indicative Of Future Results.
Yours sincerely,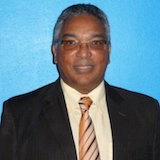 Eric Panneflek